Stepper Motor with 28cm Lead Screw: Bipolar, 200 Steps/Rev, 42×38mm, 2.8V, 1.7 A/Phase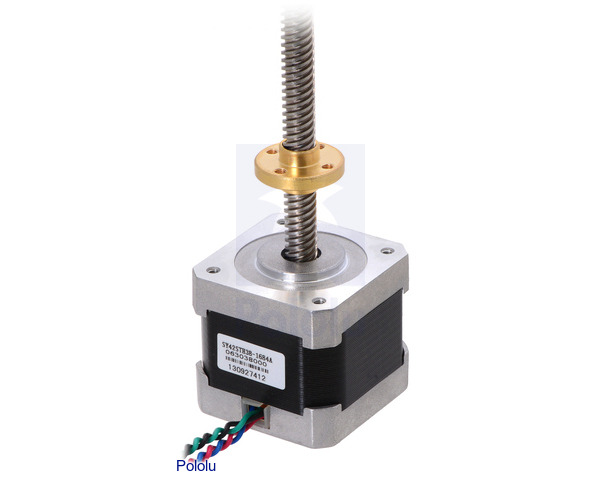 This NEMA 17-size hybrid bipolar stepping motor has an integrated 28 cm (11″) threaded rod as its output shaft, turning it into a linear actuator capable of precision open-loop positioning. The included traveling nut has four mounting holes and moves 40 µm (1.6 mil) per full step; finer resolution can be achieved with microstepping. The stepper motor has a 1.8° step angle (200 steps/revolution) and each phase draws 1.7 A at 2.8 V, allowing for a holding torque of 3.7 kg-cm (51 oz-in).
Alternatives available with variations in these parameter(s): shaft type Select variant…
File downloads
Note that while this datasheet is specifically for the stepper motor with 28 cm lead screw, the only difference between the three versions (18 cm, 28 cm, and 38 cm) is the length of the lead screw.