BlueSMiRF Silver - Bluetooth Modem (firmware version 4.77)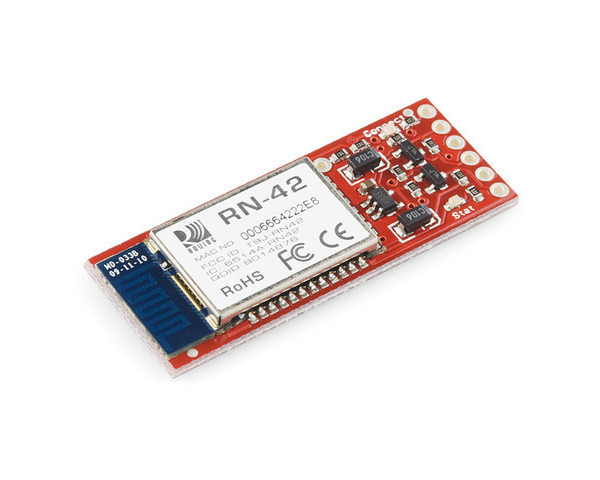 The BlueSMiRF is an easy-to-use Bluetooth serial link that works over a range of logic voltages from 3.3 to 6 V. It has a transmission distance of up to 18 meters. The board carries the RN-42 Class 2 Bluetooth module from Roving Networks, which is a robust, FCC-approved Bluetooth module. A single 0.1″ header for all the pins makes it easy to use with standard solderless breadboards and 0.1″ perfboards.
Note: This product has been replaced by the BlueSMiRF Silver – Bluetooth Modem. This product has firmware version 4.77. The replacement has version 6.15.
Overview
The BlueSMiRF Silver is a Bluetooth wireless serial link from SparkFun Electronics. This version of the popular BlueSMiRF uses the RN-42 module which has a bit less range than the RN-41 module. These modems work as a serial (RX/TX) pipe. Any serial stream from 2400 to 115200 bps can be passed seamlessly from your computer to your target.
The modem can be powered from 3.3 to 6 V for easy battery attachment. All signal pins are 3 to 6 V tolerant. No level shifting is required.
Warning: Do not attach this device directly to a serial port. You will need an RS232 to TTL converter circuit if you need to attach this to a computer.
This unit does not include any additional hardware or connectors. The 0.1″-spaced holes work well with our breakaway male header pins.
Features
FCC approved Class 2 Bluetooth radio modem
Size: 0.15″ × 0.6″ × 1.9″
Operating voltage: 3.3 to 6 V
Very robust link both in integrity and transmission distance (18 m)
Hardy frequency hopping scheme – operates in harsh RF environments like WiFi, 802.11g, and Zigbee
Encrypted connection
Frequency: 2.4~2.524 GHz
Serial communications: 2400 to 115200 bps
Operating temperature: -40~+70 °C
Built-in antenna
Firmware version 4.77
Note: SparkFun calls this product the "Bluetooth Modem – BlueSMiRF Silver" SKU: WRL-10269.
People often buy this product together with: