Pololu Universal Aluminum Mounting Hub for 1/4″ (6.35mm) Shaft, #4-40 Holes (2-Pack)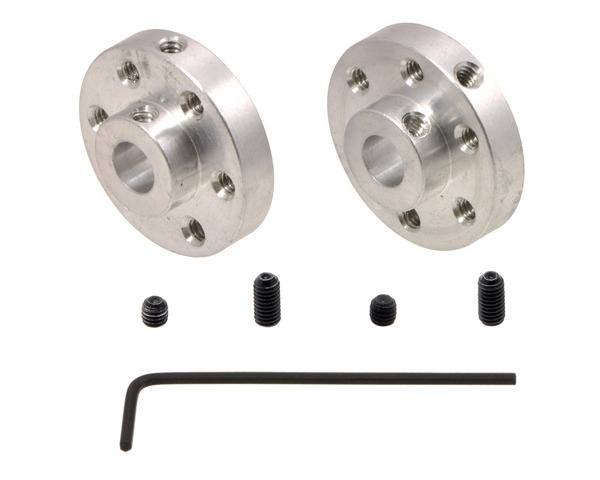 These universal aluminum mounting hubs allow you to mount custom wheels and mechanisms to 1/4 inch (6.35 mm) diameter motor shafts. The set includes two hubs, four #4-40 set screws for securing the hubs to motor shafts, and one 0.05″ Allen wrench for use with the set screws. Each hub has six threaded mounting holes for #4-40 screws (not included).
We have an assortment of universal mounting hubs available, spanning several shaft sizes and featuring mounting holes threaded for metric or imperial screws:
Compare all products in Pololu Universal Mounting Hubs.
- 10 April 2017

One of our customers built this six-foot tall balancing robot. The main microcontroller is a Teensy 3.6, and the stepper motors are driven by...

- 28 January 2014

Forum user Hardsuit posted in this thread about the hub adapters he 3D printed for his robot, which is a roughly 1/4 scale RC Tachikoma from the...

- 3 December 2013

Are you having trouble mounting things to 1/4″ motor shafts? These new versions of our universal mounting hubs fit most 1/4″ shafts, including round...