Pololu Wheel 80×10mm Pair - Yellow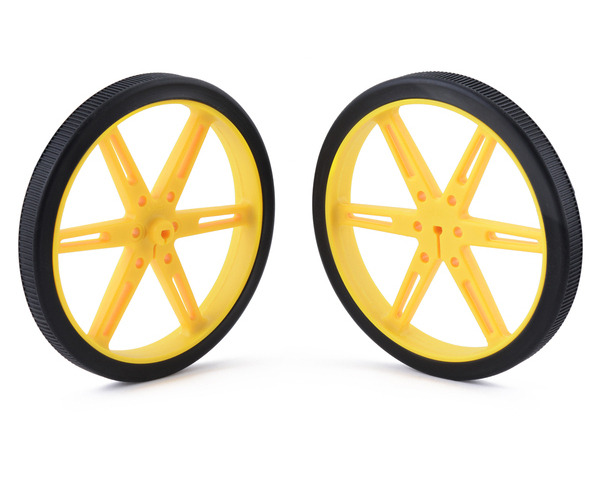 These yellow plastic wheels have silicone tires and measure 80 mm (3.15″) in diameter, and they press-fit onto the 3mm D shafts on many of our motors, including our micro metal gearmotors and our mini plastic gearmotors. Additionally, this wheel is compatible with several of our universal mounting hubs, which can serve as adapters for motors with different shafts. This product is a pair of wheels.
Alternatives available with variations in these parameter(s): size color Select variant…

Compare all products in Pololu Wheels for 3mm D-Shafts or

Pololu Wheels and Tracks or

Balboa Robot and Accessories.
What are the Pololu wheels made of?

The material used to make the hubs of Pololu wheels is ABS (also known as Polylac) PA-747.
The material used to make the tires of Pololu Wheel 42×19mm is natural rubber.
The material used to make the tires of all Pololu wheels (except the Pololu Wheel 42×19mm) is silicone rubber.