Orangutan SVP-1284 Robot Controller (partial kit)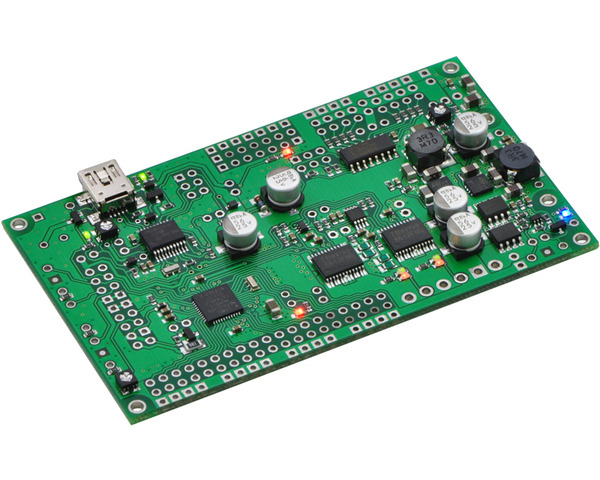 This partial kit gives you the flexibility make a customized Orangutan SVP-1284 with the headers and other through-hole components that best suit your project. All of the surface-mount parts are pre-soldered, including an ATmega1284P AVR microcontroller with 128 KB flash and 16 KB RAM, but nothing is soldered to the through-hole pads. The partial kit includes male and female versions of all of the header pins. An LCD is included.
Alternatives available with variations in these parameter(s): processor.
Dimensions
| | |
| --- | --- |
| Size: | 3.70" x 2.20" |
| Weight: | 0.9 oz |
General specifications
| | |
| --- | --- |
| Processor: | ATmega1284P @ 20 MHz with auxiliary PIC |
| RAM size: | 16384 bytes |
| Program memory size: | 128 Kbytes |
| Motor driver: | Dual TB6612FNGs |
| Motor channels: | 2 |
| User I/O lines: | 211 |
| Max current on a single I/O: | 40 mA |
| Minimum operating voltage: | 6 V |
| Maximum operating voltage: | 13.5 V |
| Continuous output current per channel: | 2 A |
| Peak output current per channel: | 6 A |
| Current sense: | 0.85 V/A |
| Maximum PWM frequency: | 80 kHz |
| Reverse voltage protection?: | Y |
| External programmer required?: | N |
| LCD included?: | N |
Notes: