1.b. Included Components
The m3pi is available fully assembled with a 3pi robot base or as an expansion kit for the 3pi robot.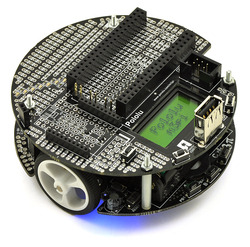 Fully-assembled Pololu m3pi robot.
Fully-Assembled m3pi Robot with mbed Socket
The following connectors and components are already installed on the fully-assembled m3pi robot (as shown in the picture on the right):
mbed socket
XBee socket
USB A connector
2-pin battery-charging header
Power pushbutton
Two general-purpose pushbuttons
6-pin shrouded ISP connector
All of the pins needed to connect to the 3pi robot base (male headers on the expansion PCB and matching female headers on the 3pi base)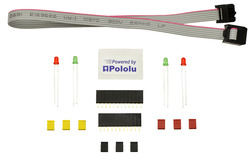 Hardware included with the Pololu m3pi robot.
The fully-assembled m3pi robot also includes some optional hardware and connectors:
m3pi Expansion Kit for 3pi Robot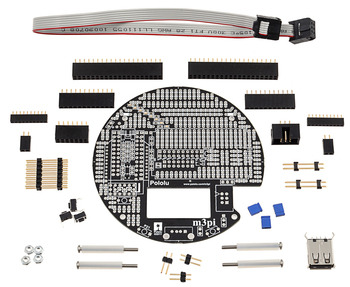 Pololu m3pi expansion kit.
The m3pi expansion kit PCB has all of the surface-mount components populated, but none of the through-hole components ship soldered in. When combined with a 3pi robot (not included), the m3pi expansion kit includes everything required to make your own fully-assembled m3pi robot as pictured in the section above. These components are shown in the picture on the right and include: