Pololu Ball Casters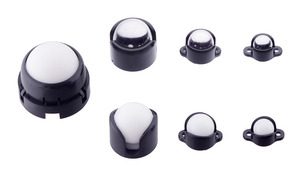 Pololu ball casters with plastic and metal balls. Ball diameter from left to right: 1″, 3/4″, 1/2″, and 3/8″.
Our ball casters (often called ball transfers when used with the ball facing up) are great third contact points for small differential-drive robots. These units have larger ball diameter-to-weight ratios than industrial units, giving your robot the ability to drive over larger obstacles without adding too much weight.
These ball casters are intended for robots weighing up to a few pounds. The larger ball casters are not made for more weight but rather to allow greater obstacle clearance.
Comparison of Pololu ball casters
Alternatives available with variations in these parameter(s): ball diameter ball material Select variant…
Pololu ball caster
ball diameter

height with
no spacers

distance
between
screw holes

weight with
no spacers
or screws

0.40″
0.53″
0.03 oz
0.40″
0.53″
0.14 oz
0.53″
0.58″
0.07 oz
0.53″
0.58″
0.32 oz
0.88″
0.24″
0.25 oz
0.82″
0.61″
1.05 oz
1.10″
0.48″
0.65 oz
1.10″
0.48″
0.58 oz
1.10″
0.70″
0.36 oz

Compare all products in this category
Products in category "Pololu Ball Casters"