New products: S13V25Fx step-up/step-down voltage regulators with fixed 3.3V to 15V output voltages
Posted by
Ben
on 9 June 2023
We have expanded our S13VxFx family of step-up/step-down voltage regulators to include options with a variety of output voltages from 3.3 V to 15 V. Like the original 5 V members of the family, these new S13V25Fx units take an input voltage from 2.8 V to 22 V and efficiently increase it or decrease it as necessary to produce the regulated output voltage. Even with their compact 0.9″ × 0.9″ size, they can deliver typical continuous output currents between 1 A and 3 A, making them our most powerful buck-boost converters. (That's almost half the size of our previously highest-power step-up/step-down units, the S18V20Fx family, which are still being impacted by the global semiconductor shortages.) The graphs below show a more complete picture of the kinds of currents you can expect for different combinations of input and output voltages: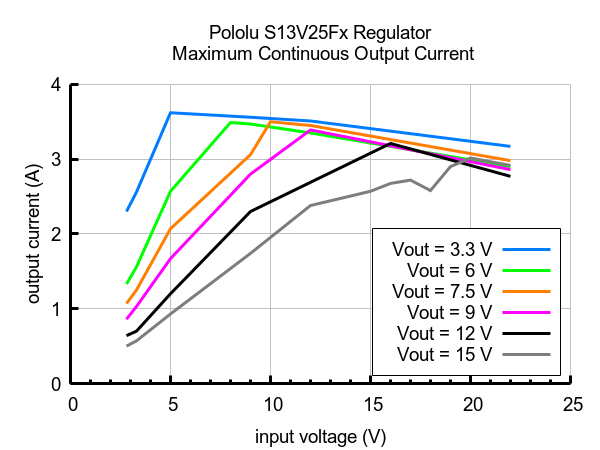 These new S13V25Fx versions do not include a 5V option because we already have that in the S13V30F5. They are pin-compatible with that 5V module and have the same overall board dimensions, but please note that the tall components (i.e. electrolytic capacitors and inductor) are in different locations. Here is a comparison of the new S13V25Fx regulators (left) next to the S13V30F5 (right):
| | |
| --- | --- |
| Step-Up/Step-Down Voltage Regulator S13V25Fx, top view with labeled pinout. | 5V, 3A Step-Up/Step-Down Voltage Regulator S13V30F5, top view with labeled pinout. |
This table shows what the full family looks like now:
As a reminder, we manufacture these boards in-house at our Las Vegas facility, so we have the flexibility to make these regulators with custom fixed output voltages. If the voltage you need is not one of our standard options and you are interested in customization, please contact us.
0 comments
Post a comment