New products: Motoron dual high-power motor controllers
Posted by
Kevin
on 9 August 2022
We've expanded our Motoron series of motor controllers with some dual high-power motor controllers: the Motoron M2S family for Arduino and Motoron M2H family for Raspberry Pi! These new Motorons have the same I²C interface as the M3S256 and M3H256, and though they only have two channels instead of the three on their smaller counterparts, they can drive much more powerful motors with up to 20 A of current at 30 V or 16 A at 40 V. There are four combinations of voltage and current ranges, available in versions designed to work as Arduino shields and as Raspberry Pi expansions.
| | |
| --- | --- |
| Using a Motoron M2S Dual High-Power Motor Controller Shield with an Arduino. | Using the Motoron M2H Dual High-Power Motor Controller with a Raspberry Pi. |
These eight additions bring the Motoron family up to a total of ten members overall:
Motoron Motor Controllers

M3S256


M3H256

M2S24v14


M2H24v14

M2S24v16


M2H24v16

M2S18v18


M2H18v18

M2S18v20


M2H18v20
Motor channels:
triple (3)
dual (2)
Max
input voltage:
48 V
40 V1
30 V1
Max nominal
battery voltage:
36 V
28 V
18 V
Max continuous
current per channel:
2 A
14 A
16 A
18 A
20 A
Available versions
for Arduino:
M3S256
M2S24v14
M2S24v16
M2S18v18
M2S18v20
Available versions
for Raspberry Pi:
M3H256
M2H24v14
M2H24v16
M2H18v18
M2H18v20
1 Absolute maximum.
As with the smaller Motorons, the high-power versions can also be stacked and their addresses configured to allow many motors to be controlled with only one I²C bus. For a stack of M2S boards on an Arduino, we recommend soldering thick wires to the kit or board-only version because 5mm terminal blocks are tall enough that they would cause short circuits within the stack. However, the M2H boards can be set up to stack safely by trimming the terminal block leads and adding extra nuts to the standoffs for additional spacing.
| | |
| --- | --- |
| Three Motoron M2S dual high-power motor controller shields being controlled by an Arduino Leonardo. | Two Motoron M2H boards with terminal blocks can be stacked if you trim the leads on the terminal blocks and space out each board using hex nuts in addition to the 11mm standoffs. |
It's also possible to stack different kinds of Motoron controllers so you can control different kinds of motors: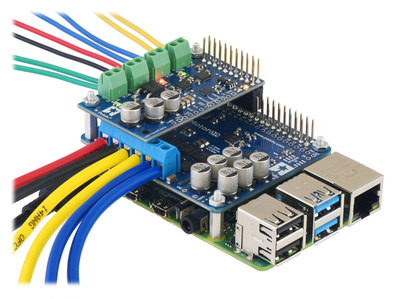 A Motoron M2H and a Motoron M3H256 being controlled by a Raspberry Pi, allowing for independent control of five motors.
Unfortunately, the current state of the electronics supply chain is affecting how we're making and selling these Motorons. In the past, when we released boards in multiple versions that have different MOSFET footprints, it was primarily to get us different power levels. Typically, we would make a less expensive one with smaller, lower-power MOSFETs and a more expensive one with bigger, higher-power MOSFETs. While we're still doing this kind of thing with the M2S and M2H Motorons (the 24v14 and 18v18 use smaller MOSFETs and the 24v16 and 18v20 use bigger ones), in this case, it's largely about maximizing parts options.
When we don't know how many months (or years!) it will take for us to get more of a MOSFET, it's hard to offer a product line where each model is totally dependent on one specific part. So we've chosen to make the different Motoron versions less distinct; the specified performance and prices are not as different between the small- and big-MOSFET versions since we want them to be viewed more interchangeably. Their performance specifications are also a little on the conservative side to give us more room to use different MOSFETs.
Even with those considerations, we still haven't been able to get the parts to make as many of these new high-power Motorons as we want to. That's why they are listed with a "Rationed" status in our store, with lower stock and higher pricing than we'd like. But we hope that as parts availability improves, we will eventually be able to ease up on those restrictions.
In fact, that just happened with the smaller M3S256 and M3H256: we received some long-awaited critical components that will let us make a lot more of those, so you should see more in stock soon, and we've already removed their Rationed status and lowered their prices!
0 comments
Post a comment