New product: Toshiba TB67S128FTG stepper driver carrier
Posted by
Ben
on 26 September 2019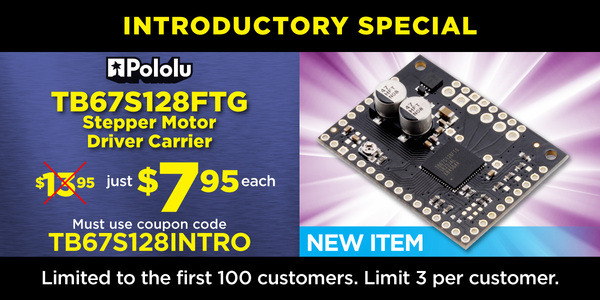 Our wide selection of stepper motor drivers has grown once again, this time with the addition of a full breakout board for Toshiba's TB67S128FTG. The TB67S128FTG has many of the same great innovative features as the TB67S2x9FTG carriers we released last year, including Active Gain Control (AGC) for automatically reducing the current when full torque is not needed and Advanced Dynamic Mixed Decay (ADMD) for smoother, more even microsteps. On top of that, it adds features such as microstepping down to 1/128th-step and an optional serial interface. The driver offers a wide operating voltage range of 6.5 V to 44 V, and it can deliver 2.1 A per phase continuous (5 A peak) on our carrier board without any heat sink or forced air flow, making it our highest-current integrated driver (bested only by our discrete MOSFET High-Power Stepper Motor Driver 36v4).
These stepper motor driver carriers first debuted at Toshiba's booth at Maker Faire Tokyo in August, and now that we finally have the drivers in volume, we are able to offer them to you! All of the driver's control pins and outputs are available, so it can function as a complete evaluation board for the TB67128FTG, yet it is compact enough to integrate into actual projects without taking up an excessive amount of space: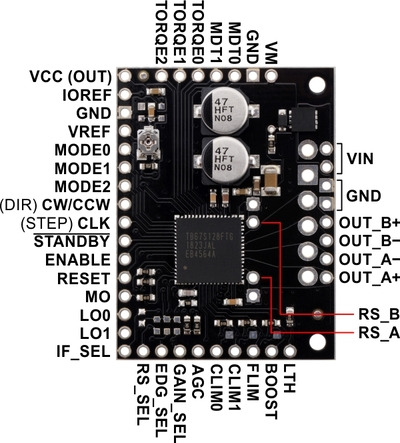 TB67S128FTG Stepper Motor Driver Carrier, top view with labeled pinout.
Introductory special
As with all of our new product announcements, we are offering an introductory discount to make it extra easy to try out this new driver. Be among the first 100 customers to use coupon code TB67S128INTRO (click to add the coupon code to your cart) and up to three units for just $7.95 each.
0 comments
Post a comment