New product: 24V Step-Up/Step-Down Voltage Regulator S18V20F24
Posted by
Emily
on 18 February 2019
The 24V Step-Up/Step-Down Voltage Regulator S18V20F24 is the newest addition to our line of S18V20x step-up/step-down voltage regulators.
This 24 V fixed-voltage version is a minor modification of the 9 V to 30 V adjustable version we have been making for years. We can make custom-voltage versions of most of our regulators, and this particular unit was initially one of those customizations we routinely offer. However, since 24 V seems like it might be common enough to be interesting to other customers, we have made it a stock product. Since we assemble these at our Las Vegas, Nevada facility, we can often make simple customizations that only require component changes within a few days. Besides changing output voltages on regulators, these changes could include changing LED colors, omitting components such as pull-up or pull-down resistors, and substituting components with higher temperature ratings or better tolerances. (We offer more involved customizations that require modified board layouts or new firmware features, but those take longer and have higher up-front engineering costs.)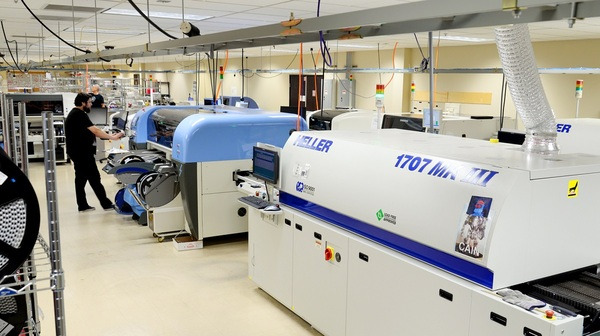 Pololu electronics manufacturing area with multiple pick and place lines.
For those of you interested in the details of the actual product, the S18V20F24 efficiently produces a fixed 24 V output from input voltages between 3 V and 30 V while allowing a typical output current of up to 2 A when the input voltage is close to the output voltage. Its ability to convert both higher and lower input voltages makes it useful for applications where the power supply voltage can vary greatly, as with batteries that start above but discharge below the regulated voltage. Other features include integrated reverse-voltage protection, over-current protection, over-temperature shutoff, and under-voltage lockout.
| | |
| --- | --- |
| Typical efficiency of Pololu 24V step-up/step down voltage regulator S18V20F24. | Typical maximum output current of Pololu fixed voltage step-up/step-down voltage regulators (S18V20F5, S18V20F6, S18V20F9, S18V20F12, and S18V20F24). |
Alternate versions of this regulator include a fixed 5 V, 6 V, 9 V, or 12 V output or an adjustable 4 V to 12 V or 9 V to 30 V output. Our full selection of regulators and power supplies can be found here.
2 comments
Post a comment