New product: 5-Channel Reflectance Sensor Array for Balboa 32U4 Balancing Robot
Posted by
Emily
on 21 December 2018
We now have a 5-Channel Reflectance Sensor Array designed specifically for use with the Balboa 32U4 Balancing Robot. The array mounts to the Balboa 32U4 control board and provides an easy way to add line sensing to the Balboa (but following a line while balancing is actually kinda hard—and that part is up to you, should you accept the challenge).
The array features five IR emitter/phototransistor pairs with dimmable brightness control similar to our line of QTR reflectance sensors.
As with all of our new products this year, we are offering an introductory special. The sensor by itself is already inexpensive, so just discounting that did not seem exciting enough. To make it more celebratory, we decided to offer a special promotion for the whole Balboa package: you can get a Balboa 32U4 robot kit with motors, wheels, and the new 5-Channel Reflectance Sensor Array for just $79! To get the discounted price, add this special promotion product bundle and coupon code BALBOAREFLECT to your cart. Offer is limited to the first 100 customers, limit one per customer. If you already have a Balboa, or if you want different motors or wheels than what's included in the bundle, you can use coupon code BALBOAREFLECT2 to save 35% (limit 2 per item).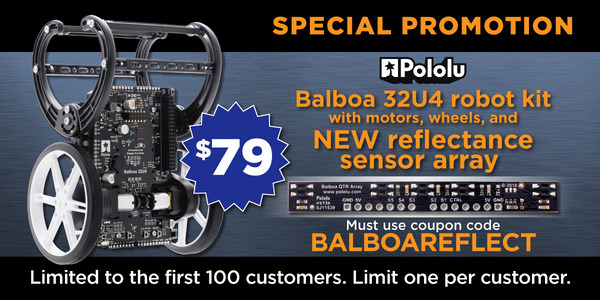 2 comments
Post a comment