New product: USB 2.0 Type-C Connector Breakout Board
Posted by
Kevin
on 16 August 2018
We have just released our USB 2.0 Type-C Connector Breakout Board. The Type-C connector has become increasingly common on devices like smartphones and notebook computers over the past few years, and it offers a number of interesting improvements over the legacy USB A and B connectors it is supposed to replace.
One of the most noticeable features is that the connector is reversible: you can plug a Type-C cable into a receptacle with either side up, and since Type-C ports can be used for both USB hosts and USB devices, the two ends of the cable can be interchangeable too. The USB-C specification also provides for negotiation of increased power (up to 20 V and 5 A) and alternate uses of the USB interface wires.
All of this flexibility comes at a cost. The Type-C connector itself, which measures about 1 cm (0.4″) square, has 24 separate tightly-packed pins:
4 power pins (VBUS)
4 ground pins
4 USB 2.0 data pins (D+ and D−, each duplicated for reversibility)
8 USB 3.1 SuperSpeed data pins
2 configuration pins
2 auxiliary (sideband) pins
Making all the required connections for a prototype or hobby project is therefore a much more daunting task with a USB-C receptacle compared to a Type-A or Type-B connector with only 4 or 5 pins. This is where our Type-C connector breakout board comes in, exposing all the pins necessary for USB 2.0 communication along a row of 0.1″-spaced holes. (Note that the board does not break out the USB 3.1 SuperSpeed differential pairs.)
If you are designing something that uses USB-C, you also need to consider what to do with the Configuration Channel (CC) pins. These pins are used to determine the role of a port when it is connected—whether it is a USB host or device, and whether it provides or consumes power—and they are also used to configure more advanced functionality like higher-voltage power delivery and alternate modes that allow other protocols over the USB interface.
Since we expect many users of this breakout board to employ it as a USB device port, we populate the board with pull-down resistors on the CC pins that make it a straightforward replacement for a Type-B, Mini-B, or Micro-B port. If you have a different application in mind, you might want to disconnect or remove the resistors yourself, or you can contact us about customizing the termination resistors.
We are interested in hearing any feedback you might have about the USB Type-C connector in general, this board in particular, and any follow-on boards you would like to see. Are you excited about using Type-C connectors instead of Micro-B? Would you have a use for the USB 3.1 SuperSpeed pins brought out to 0.1″-spaced holes? Do you want something with an on-board configuration controller that makes it easier to set up USB Power Delivery or other advanced functionality? Please share your thoughts in the comments below.
As with all our new products this year, we are offering a special introductory promotion. You can get up to three of the new breakout boards for just $1.92 each, limited to the first 100 customers using coupon code USBCINTRO.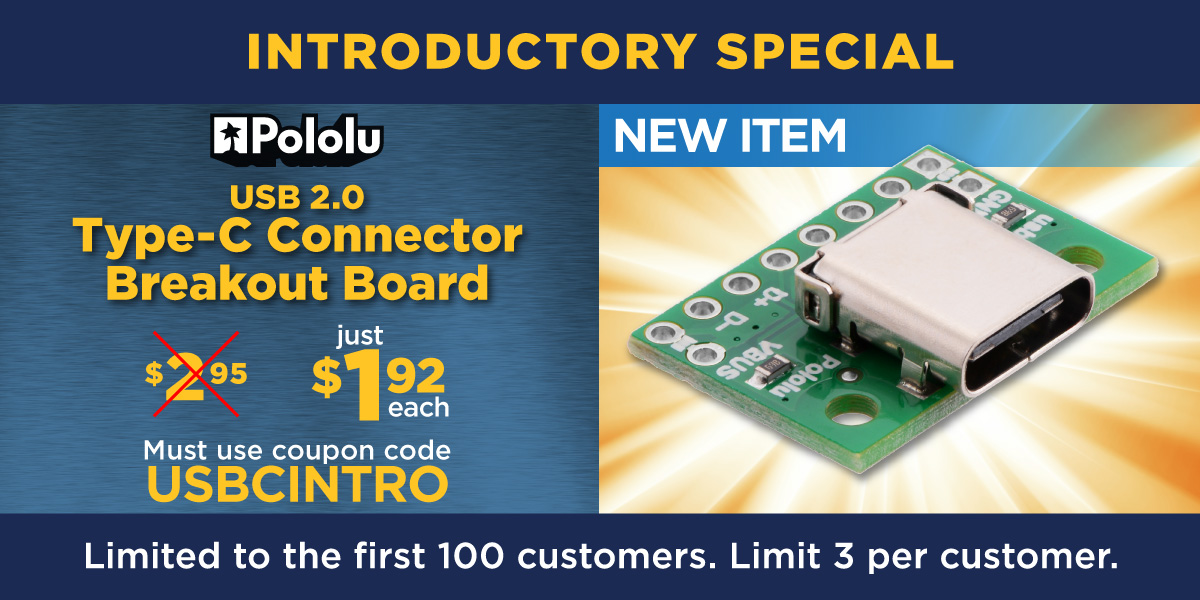 18 comments
Post a comment