New Products: TB67S249FTG and TB67S279FTG Stepper Motor Driver Carriers
Posted by
Jan
on 8 June 2018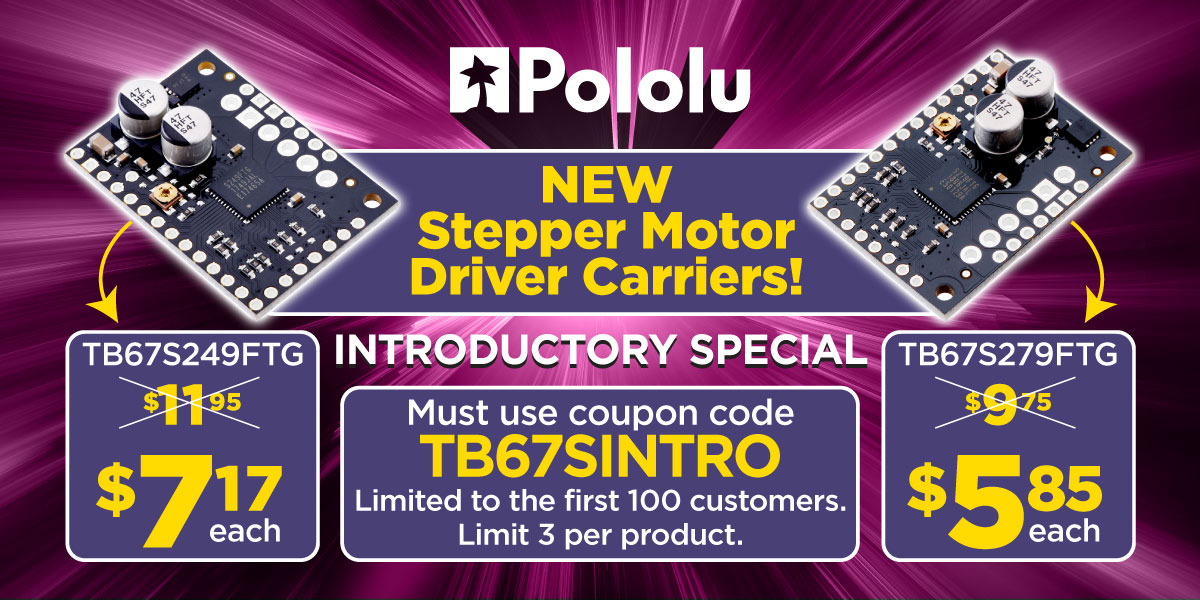 I am happy to announce the release of two new stepper motor driver products, carriers for Toshiba's TB67S249FTG and TB67S279FTG. The only difference between the two is the maximum current supported, and with operation up to 47 V, the TB67S249FTG is our highest-power stepper motor driver. Both chips offer several innovative features, including Toshiba's Active Gain Control (AGC):
Ben and I met with some Toshiba reps at the CES show earlier this year and got to see the demo setup shown starting from around 1:45 in that video, and it looks like it could be great for many applications where the drivers and motors are inefficiently running at maximum current all the time.
The folks at Toshiba were also excited about their Advanced Dynamic Mixed Decay (ADMD) feature:
The last special feature that I'll point out is the internal current sensing, which Toshiba calls Advanced Current Detection System (ACDS). This is not very relevant when comparing our assembled breakout boards, but if you are considering using the driver chips directly in your own design, not having to add two big current sense resistors is a big plus.
Because these stepper motor driver ICs have so many features, we made breakout boards larger than our usual small stepper driver carriers (popular on RAMPS and similar projects) so that we could fit all the necessary control pins. We are looking into the feasibility of fitting this chip into that smaller 0.6″ × 0.8″ form factor and what mix of features we would make accessible on it.
As with all of our new product announcements, we are offering an introductory discount to make it extra easy to try out these new drivers. Be among the first 100 customers to use coupon code TB67SINTRO (click to add the coupon code to your cart) and get 40% off on up to three units of each type.
2 comments
Post a comment