New 5V step-up/step-down voltage regulator S9V11F5
Posted by
Ben
on 27 March 2017
Our newest step-up/step-down voltage regulator, the S9V11F5, takes input voltages between 2 V and 16 V and increases or decreases that voltage as necessary to produce a fixed 5 V output with a typical efficiency of over 90%. (Note that it requires a minimum of 3 V to start up, but it can operate down to 2 V once it is running.) It can temporarily deliver peaks of around 2 A, and the maximum continuous output current depends on the input voltage as shown in the graph below: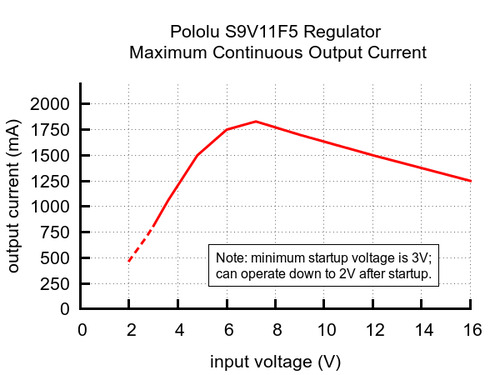 The ability to raise or lower the input voltage makes this regulator especially well suited for battery-powered applications where the nominal battery voltage is close 5 V, such as when using four NiMH cells, since the battery voltage transitions from above 5V to below as the battery discharges. The wide input voltage range is also great for applications where you want a lot of flexibility in power supply choice or for systems powered by alternative energy sources like solar or wind, where the output voltage can vary a lot.
With a wider input voltage range and its ability to deliver more current, the S9V11F5 is a higher-performance alternative to our popular S7V7F5 buck-boost regulator, all while being even smaller in size thanks to its double-sided assembly.
For more information on this regulator, visit the S9V11F5 product page, and for other regulator options, you can take a look at our full selection of step-up/step-down regulators, step-up voltage regulators, and step-down voltage regulators.
8 comments
Post a comment