New product: VL53L0X Time-of-Flight Distance Sensor Carrier
Posted by
Kevin
on 9 August 2016
We've just released our VL53L0X Time-of-Flight Distance Sensor Carrier. With its ability to measure distances up to 2 m depending on configuration, target, and environment, the VL53L0X is a longer-range version of the VL6180X (but without ambient light sensing functionality) that operates using the same principles. This integrated lidar module times how long it takes for pulses of infrared light to reach a target, reflect off it, and arrive back at the sensor. It uses this information to report the range to the target with a resolution of 1 mm and accuracy as good as ±3%, minimizing the effect of the target's reflectance on the measured distance.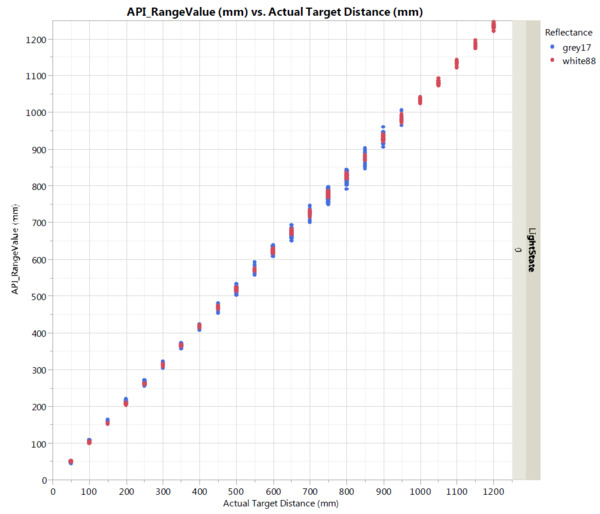 VL53L0X datasheet graph of typical ranging performance (in default mode).
As usual, our breakout board adds a 2.8 V regulator and level shifters to help interface with 3.3 V and 5 V systems, as well as a breadboard-compatible pinout and mounting holes. We are also working on an Arduino library for the VL53L0X that we expect to release in the next few days.
For more information about the VL53L0X carrier, see its product page.
10 comments
Post a comment