New products: MinIMU-9 and AltIMU-10 v5 IMU boards
Posted by
Ben
on 4 February 2016
We have released new versions of our MinIMU-9 and AltIMU-10 inertial measurement unit (IMU) modules, which use an I²C interface to provide nine independent rotation, acceleration, and magnetic measurements that can be used to calculate the sensor's absolute orientation (the AltIMU also includes an altimeter). These v5 editions feature ST's new LIS3MDL 3-axis magnetometer and LSM6DS33 3-axis accelerometer and gyro, which allow them to offer improved performance over previous versions at lower prices. The new versions are pin-compatible with the previous ones, though software written for older IMU versions will need to be changed to work with the v5 since the sensor ICs have changed.
We think these new boards combine the best ST MEMS sensors into compact boards at great prices. However, our older MinIMU-9 v3, AltIMU-10 v3, and AltIMU-10 v4 are still available for now at reduced clearance prices, so if you don't absolutely need ST's newest sensors on your IMU, these previous versions are still very good sensor boards to consider.
Here's an updated version of our diagram showing where the new v5 modules fit in: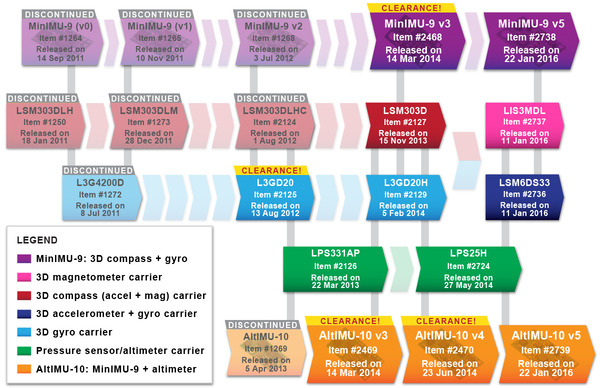 Evolution and release dates of Pololu carriers for ST's MEMS sensors through January 2016.
0 comments
Post a comment