New product: Breakout Board for microSD Card with 3.3V Regulator and Level Shifters
In September of last year, we started carrying our Breakout Board for microSD Card, which was the first board that I ever designed and routed here at Pololu. It is a simple breakout board that gives direct access to each contact available on a microSD card socket. However, since microSD cards operate at 3.3 V, it can be tricky interfacing them with a 5 V system. To address this, we made a new version with an integrated 3.3 V regulator and level shifters. Even with the extra components (and mounting holes, which the mechanical engineers at here Pololu are always pushing for), the board is still compact, measuring only 0.94″ × 0.9″, and it breaks out all of the contacts from a microSD card socket necessary to interface with the card through its SPI bus mode interface to a single 1×9 row of 0.1″-spaced pins. This allows easy use with breadboards, perfboards, or 0.1″ connectors.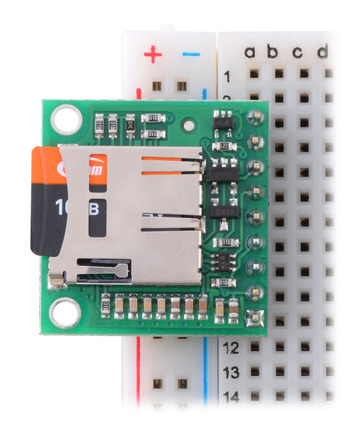 You might recognize the circuit from our A-Star 32U4 Prime controllers, which use essentially the same level shifters to interface a microSD card with an Arduino-compatible ATmeg32U4 microcontroller running at 5 V.
For more information about this breakout board, see its product page.
4 comments
Post a comment