New products: sub-micro plastic planetary gearmotors & compatible wheels
Posted by
Jon
on 22 May 2014
Need a "little" help with your next electronics project? Get it up and running with our sub-micro plastic planetary gearmotors! Measuring a minuscule 6 mm in diameter and weighing just over a gram, these gearmotors are even smaller (and much lighter) than our popular micro metal gearmotors.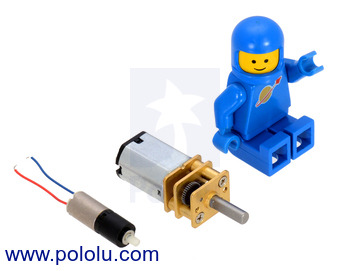 26:1 sub-micro plastic planetary gearmotor next to a micro metal gearmotor and a LEGO Minifigure for size reference.
Our sub-micro plastic gearmotors are available in two gear ratios: 26:1 and 136:1. Click on those ratios to learn more about each motor!
Motor accessories
While there are no mounting holes, their cylindrical bodies makes them perfect for snapping into 1/4″ (6 mm) fuse clips, and their small scale makes it easy to affix them with tape or glue. We are also now carrying tiny 14 × 4.5 mm wheels, which are compatible with the sub-micro plastic gearmotor output shafts.
| | |
| --- | --- |
| 26:1 sub-micro plastic planetary gearmotor being held by a 1/4″ (6 mm) fuse clip. | Sub-micro plastic planetary gearmotor with a 14×4.5mm wheel. |
But, Jon, what can I do with such a tiny, adorable motor?
I'm glad you asked! The way I see it, you really only have two options:
Spin something really tiny and adorable.

Make something tiny and adorable like this line follower made by Pololu engineer Kevin (blog post coming soon!):
I'm just kidding; there are definitely plenty of interesting things that can be made with these motors. We can't wait to see what you use these motors for!
0 comments
Post a comment