Powerful new S18v20x step-up/step-down regulators
Posted by
Ben
on 31 December 2013
Earlier this month we introduced our new line of powerful U3V50x boost regulators; now we have a similarly powerful family of S18V20x step-up/step-down voltage regulators to go along with them! We are especially excited about these regulators, which have a wide 3 V to 30 V input voltage range, typical efficiency of 80% to 90%, and maximum output current of approximately 2 A when the input voltage is near the output voltage.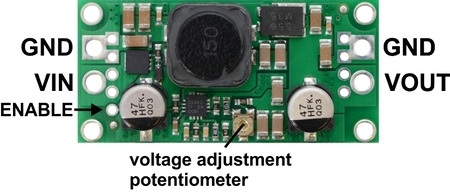 Step-up/step-down regulators like the S18V20x work with input voltages that are less than, equal to, or greater than the output voltage. This makes them especially well suited for battery-powered applications where the nominal battery voltage is close to the desired output voltage, and the actual battery voltage transitions from above the output to below as the battery discharges. For example, these regulators make it possible to get a steady 12V from a 12V battery or a steady 6V from five NiMH cells, which can be over 7 V when fully charged and below 5 V when drained. These regulators are also great for applications where having a very wide operating voltage range is desirable, such as projects where you want a lot of flexibility in power supply choice or in systems powered by alternative energy sources like solar or wind, where the output voltage can vary greatly.
The S18V20x family includes versions with fixed 5 V, 6 V, 9 V, or 12 V outputs and versions with adjustable 4 V to 12 V or 9 V to 30 V outputs. All of them feature built-in reverse-voltage protection, over-current protection, thermal shutdown, and an under-voltage lockout that keeps the modules from behaving erratically when the input voltage gets too low.
The compact boards (0.825″ × 1.7″) have four mounting holes for #2 or M2 screws and can be assembled with the included 5mm-pitch terminal blocks or 0.1″ header pins.
For other regulator options, you can take a look at our full selection of step-up/step-down regulators, step-up voltage regulators, and step-down voltage regulators.
0 comments
Post a comment