Introduction to Jan's blog
Posted by
Jan
on 12 November 2010
About me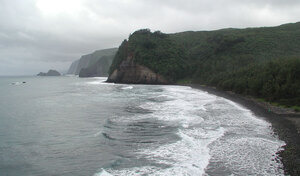 Pololu Valley, December 2000.
My name is Jan Malášek, which is a Czech name, so the "J" is pronounced as an English "Y" (if you care, we can go over the last name in person, or you can consult your local Czech person). I grew up on the Big Island of Hawaii, spent five years in school in Massachusetts, and then moved to Las Vegas, Nevada to work on Pololu. I recently turned 30, and I'm still not the millionaire I had hoped to become at age 23 and then by age 25. Hitting 30 means it has been twenty years since I got started with electronics and ten years since I routed the first circuit board that said "Pololu" on it.
I have been trying to teach electronics to my friends and others around me since I was in high school, and I have wanted to write a book about building robots since before I started Pololu. However, making the time for that is getting more and more difficult; my hope is that I can make at least some progress toward that goal by writing a series of articles about common problems encountered by those getting started in robotics.
About this blog
I'm not even comfortable calling this a blog, partly because having one seems trite at this point. Some folks at Pololu have been pushing for a company blog for years, but I wasn't too excited about something that would amount to a bunch of press releases. However, one major aspect of blogs that I like is the interactivity provided by comments. Thinking of this project as a blog helps make explicit that part of the purpose is to be more personal, to allow some commentary, and to provoke some interaction with customers, employees, and others that are involved with Pololu. I thought for a while about whether this should be a "Pololu blog" with either a mix of authors or no explicit author, but I want this to be more personal than the rest of the content on our web site, so I have committed to making this the blog by me, president of Pololu.
I have several kinds of readers in mind:
Those getting started in robotics – I was fortunate to have many wonderful teachers and mentors as I was growing up. I realize many students don't have the kinds of opportunities I had, and I hope to reach budding roboticists who don't have access to engineers to help them with their projects. Those wanting to learn about building robots are not just children and teenagers; for adults not already in a related field or in an academic environment, finding help and good advice can be a challenge. I regularly have to turn away reasonable questions because they are beyond the scope of the help I can offer on the phone or by email. If I can write some decent articles, I can point to them instead of giving the less satisfying reply of, "There must be a web page about that somewhere; go look it up."
Customers – Having done most of Pololu's technical support for the past decade, I have seen many of the same questions again and again, which gives me a good idea of common problems that trip people up. My addressing each customer individually isn't sustainable as Pololu continues to grow, and I'm also getting sick of answering the same questions again and again. I hope this blog helps me address those questions more efficiently while maintaining some personal connection with our customers. And, if they see some of the reasoning that goes into our designs, they might not bitch quite as bitterly about us when they connect power backwards and blow out the new electronics they just bought.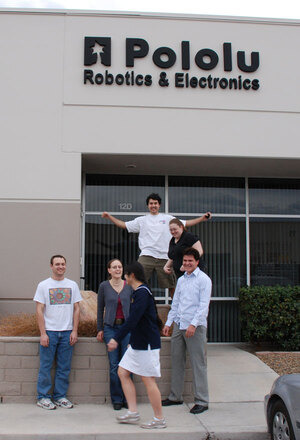 Employees and Potential Employees – I want to pass on the ten years of experience I mentioned earlier to my employees, whether they're now answering the tech support calls or whether they're designing our newest products. The interdisciplinary nature of robotics makes it common to be a beginner in some areas even with good experience in others. I expect to have others at Pololu proofread my posts before I make them public, and since I intend to include some content that is not purely technical, I hope that the editing sessions will give us opportunities to explicitly think about the values and principles that should shape our growing organization. It would be great if this blog gets outside readers excited about what we're building and helps them consider joining us.
Teachers – Most engineers go through quite a bit of schooling, which I suspect contributes to strong opinions about how engineering should be taught. It's certainly true for me. Although I have no formal training in education, I have been involved in various projects aimed at introducing middle school and high school students to electronics, programming, and engineering, and I have been involved in organizing some robot contests, so I might someday share some thoughts on ways to get students excited about robotics. I hope this blog becomes a resource for teachers trying to help their ambitious students who want to go beyond standard curriculums, and I welcome any suggestions for potential blog topics about common stumbling blocks.
Engineers and advanced hobbyists – Although I expect most of the articles here to be targeted toward beginner-level issues, I intend for them to be rigorous enough to be of interest to non-beginners or for professional engineers with only a casual interest in the kinds of work we do at Pololu. Since I list other entrepreneurs as potential readers, this "engineer" category of reader might also cover the opposite: the engineer who considered working at a small start-up but instead opted for the probably safer career route of working at a large company. I suspect I might want to comment on some trends such as open source hardware, which could be more relevant to my peers than to beginners.
Other entrepreneurs – I enjoy learning about the experiences of others starting or running their own companies, whether it has to do with my industry or not. I'm not sure how much useful experience I have to share, but I think I might have enough for the occasional post. I suspect Pololu is relatively unique, at least compared to a restaurant or dry cleaner, but I'm not sure if that makes us interesting or irrelevant. I should at least have some relevant material for those engineers and advanced hobbyists that are trying to turn their fun project into a product they can sell.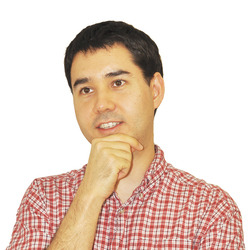 Jan pretending to engage his brain.
Myself – There are many designs and programs I made a while ago that make me wonder, "what the hell was I thinking?". Perhaps some of these posts will help me answer such questions in the future.
So, there are a lot of lofty aspirations and uses of the word "hope" here. I'm not sure of the extent to which I'll be able to satisfy my goals while keeping things personal and interesting without offending or alienating too many customers, but let's see how it goes.
15 comments
Post a comment