Solarbotics GMPW-R RED Wheel with Encoder Stripes, Silicone Tire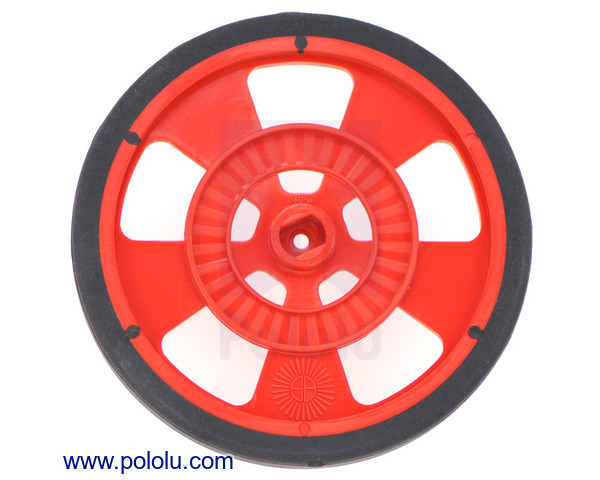 This 2-5/8" plastic wheel is made specifically for the Solarbotics GM2, GM3, GM8, and GM9 gearbox output shafts, and it also matches the Pololu plastic gearmotors. Each wheel has a silicone tire and 64-stripe encoder pattern molded in.
Compare all products in Solarbotics Wheels.
The GMPW wheel is made to match the Solarbotics
GM2
,
GM3
,
GM8
, and
GM9
gearmotors, and it also match the
Pololu plastic gearmotors
. This plastic wheel is molded from ABS and has a molded-on thermoplastic silicone tire with great traction and wear characteristics. There is a 64-stripe encoder pattern on one side of the wheel compatible with the Wheel Watcher. The plastic wheel measures just under 2-5/8" (69 mm) across by 0.3" (7.62 mm) wide and is available in
blue
,
yellow
,
red
, and
black
.
Included Parts
One wheel
One screw for mounting to a suitable motor such as those listed under the related products on this page.
Feature Summary
Diameter: just under 2-5/8" (69 mm)
Tire width: 0.3" (7.62 mm)
Tire: molded-on thermoplastic silicone
Encoder stripes: 64-stripe pattern molded in on one side (compatible with the Wheel Watcher)
Lower-Cost Options For a lower-cost, similar wheel with fewer features, see the original-style GMPW wheels.


People often buy this product together with: