Tamiya 70157 Universal Plate Set (2pcs.)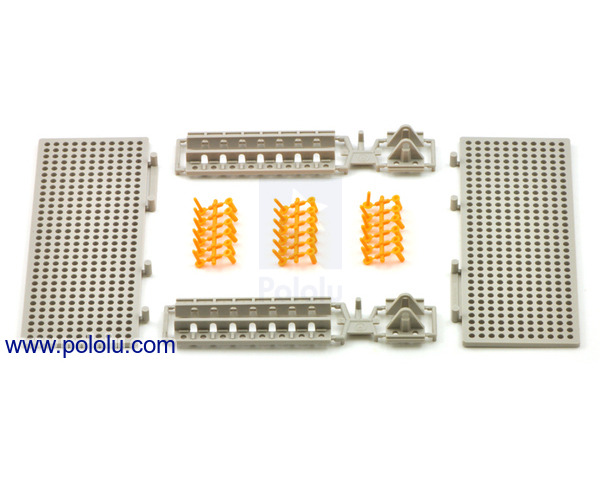 The Tamiya 70157 Universal Plate Set (2pcs.) provides a reconfigurable platform for building your own robot chassis. The set comes with two plates with gridded mounting holes, angle brackets, and mounting pins that let you mount mechanical components in a variety of positions.

Compare all products in Tamiya Products or

Chassis or

Hardware.
Description

Specs

(0)

Pictures

(3)

Resources

(0)

FAQs

(0)

On the blog

(0)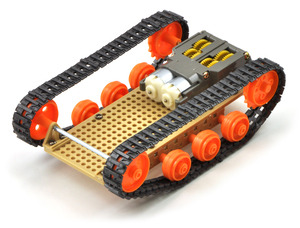 Tank-style chassis built using the Tamiya 70100 track and wheel set, Tamiya 70098 universal plate set, and Tamiya 70097 twin-motor gearbox kit.
Overview
The Tamiya 70157 Universal Plate Set (2pcs.) is a customizable chassis designed to be compatible with multiple Tamiya products.
This set includes two plastic plates with an 11 x 31 grid of 3 mm holes spaced 5 mm apart, which provide space for many mechanical connections. The four included eight-hole angle brackets can connect the two plates and additional Universal Plates or can serve as a mounting point for an axle. The plate set also includes four shaft mounts (the triangular brackets in the above picture) for supporting axles. The kit provides 18 push rivets for connecting the angle brackets and shaft mounts to the plates.
Included Parts
Two 11 x 31 grids of 3 mm holes spaced 5 mm apart (60 x 160 mm, 2.36" x 6.3")
Four eight-hole angle brackets
Four shaft mounts
18 push rivets
Tamiya Universal Plates
Universal Plate Set (2pcs.) 70157 (this product)
Compatible Gearbox Kits
People often buy this product together with: