Solarbotics GM10 1" Wheel Black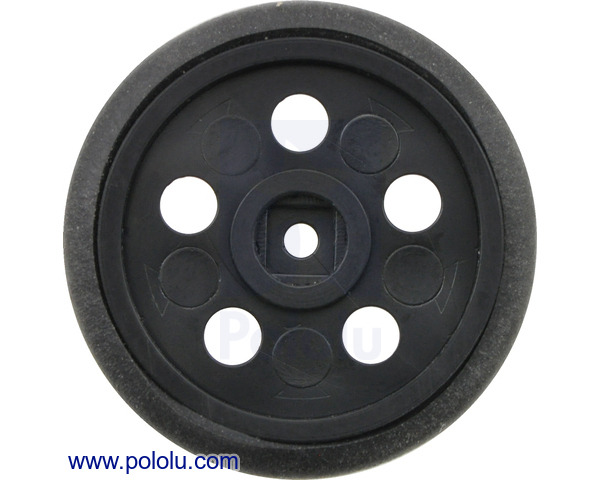 This 1" plastic wheel is made specifically for the Solarbotics GM10 Geared Pager Motor. Each wheel comes with two small black rubber bands: the tire and a spare.
The GM10W wheel is made to match the Solarbotics GM10 Geared Pager Motor. This small plastic robot wheel is molded from ABS, and it measures just under 1" across by 0.22" wide. With the included rubber bands, the total wheel diameter is 1".
Included Parts
One wheel
Two rubber band tires (one is a spare)
To mount this wheel to a GM10 Geared Pager Motor, you will need to remove the motor's included output shaft arm and centering spring. To make room for the wheel, you will also need to cut/break off the thin plastic rod that the centering spring clips to. Removing the arm exposes a 0.190" round shaft that is 0.125" long; the last 0.050" of the shaft is a square with 0.140" sides that seats into these wheels.
Note: This wheel does not come with any mounting hardware; please use the screw supplied with the GM10 Geared Pager Motor.
People often buy this product together with: