5-Channel Reflectance Sensor Array for Balboa 32U4 Balancing Robot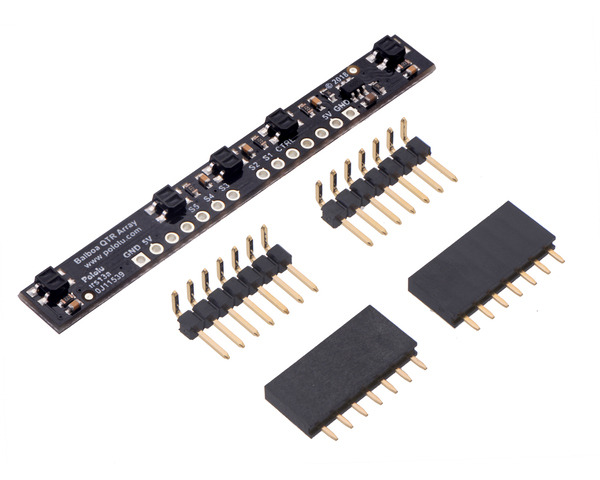 This reflectance sensor module is designed specifically for use with the Balboa 32U4 balancing robot. It features five IR LED/phototransistor pairs that are great for identifying changes in reflectance on the ground directly underneath the Balboa (like detecting or following a black line on a white background). The sensor array offers dimmable brightness control, and each sensor provides an independent output that can be measured with a digital I/O.

Compare all products in Balboa Robot and Accessories.
Dimensions
| | |
| --- | --- |
| Size: | 2.52″ × 0.29″ |
| Weight: | 1.8 g1 |
General specifications
| | |
| --- | --- |
| Voltage: | 5 V2 |
| Peak wavelength: | 940 nm |
| Maximum current draw: | 40 mA3 |
Identifying markings
| | |
| --- | --- |
| PCB dev codes: | irs13a |
| Other PCB markings: | 0J11539 |
Notes: