UM7 Orientation Sensor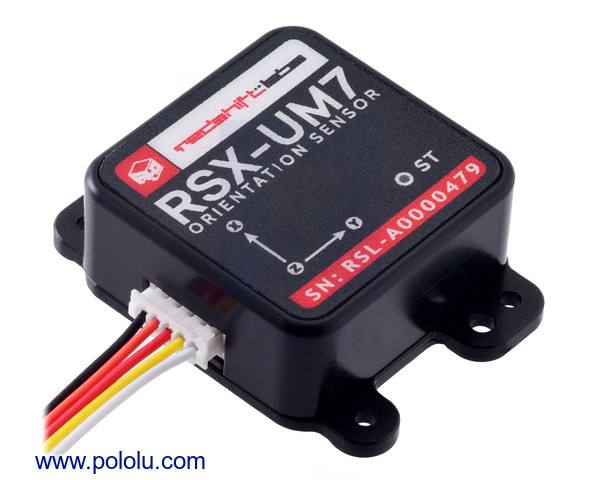 The UM7 orientation sensor from Redshift Labs is an Attitude and Heading Reference System (AHRS) that contains a three-axis accelerometer, rate gyro, and magnetometer. It combines this data using an Extended Kalman Filter to produce attitude and heading estimates.
Alternatives available with variations in these parameter(s): case/enclosure? Select variant…

Compare all products in Accelerometers, Gyros, & Compasses or

MEMS Sensors.
Dimensions
| | |
| --- | --- |
| Size: | 1.10″ × 1.12″ × 0.44″ |
| Weight: | 8.3 g1 |
General specifications
Interface:
TTL serial, SPI
Minimum operating voltage:
4 V
Maximum operating voltage:
5.5 V
Maximum logic voltage:
3.3 V2
Axes:
pitch (x), roll (y), and yaw (z)
Measurement range:
±2000°/s (gyro)
±8 g (accelerometer)
±12 gauss (magnetometer)
Supply current:
50 mA
Case/enclosure?:
Y
Notes: