Parallax Boe-Bot Robot Kit - USB (with USB A to Mini-B cable) #28832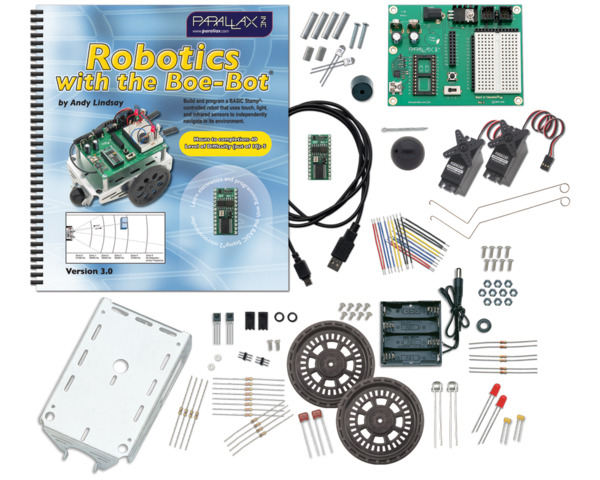 The Boe-Bot Robot Kit is an educational kit complete with parts and a textbook for building and programming your own Boe-Bot robot. No previous robotics, electronics, or programming experience is required.
Overview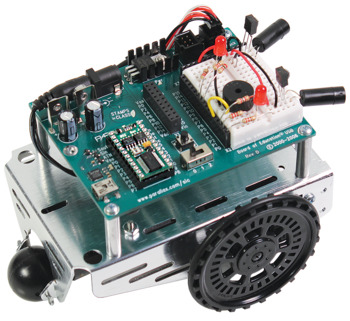 The Boe-Bot.
Build a rolling robot with a BASIC Stamp 2 microcontroller brain. Just follow the clear, step-by-step instructions and illustrations with the included book, Robotics with the Boe-Bot (4MB pdf). No programming or electronics experience is needed!
The Boe-Bot Robot takes about 1 to 2 hours to put together. Each project in the Robotics textbook provides a unique new experience of wiring and source code tuning. Completing the entire set of projects takes 50 hours and is suitable for anybody over 13 years of age. The USB Board of Education (and BS2-IC) may also be removed to be used as a platform for other inventions and studying other subjects, such as physics with our wide variety of sensors.
You can find Boe-Bot robots in middle and high schools, vocational schools and colleges, robotics clubs, and hobbyists' homes. They are great companions for learning or teaching technology, mechatronics, and STEM programs. It's also an approved platform for the Boy Scouts of America Robotics Merit Badge. This robot kit can be used as a California A-G approved elective course. Assessment material is available to verified educators; contact Parallax for details.
Note: The Boe-Bot requires four AA alkaline batteries, which are not included.
Features
Beginner-friendly – No programming experience needed
Open platform – Exposed circuitry allows you to learn and create your own electronic circuits
Solder-free – Experiment with custom circuits on the breadboard (no special-brand connectors)
Understandable – Included text provides easy-to-follow tutorials
Programmable – PBASIC is a very easy to learn text-based language that introduces concepts found in most programming languages
Autonomous – Touch, light, and infrared sensors let the Boe-Bot navigate on its own
Expandable – Additional sensors and hardware expansion kits are available to get the most out of your robot
Affordable – Priced for 1 to 2 students per robot, with no additional fees for software or curriculum
Note: Parallax calls this product the "Boe-Bot Robot Kit – USB", product id 28832. It is the newer version of the Parallax Boe-Bot Robot Kit – Serial (with USB adapter and cable) #28132.