Pololu Aluminum Scooter Wheel Adapter for 5mm Shaft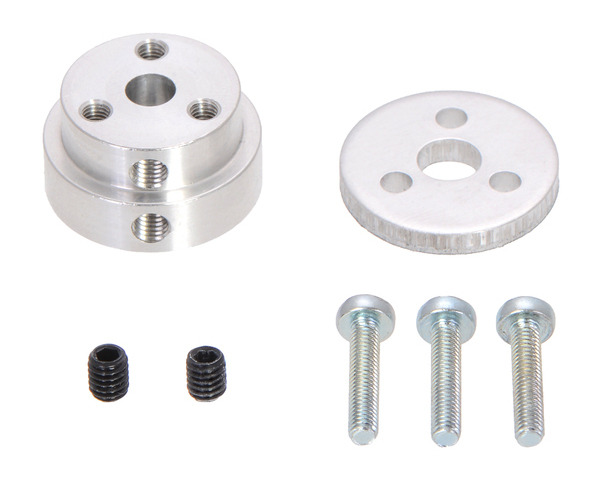 This two-part aluminum assembly mounts directly to 5 mm diameter motor output shafts like those on many of our stepper motors and allows you to drive most scooter, skateboard, inline skate, and other common wheels that are compatible with popular 608 ball bearings. Two M4 set screws are included for securing the threaded adapter piece to a motor shaft, and three 14 mm M3 screws are included for clamping the wheel between the threaded adapter piece and the washer.
Alternatives available with variations in these parameter(s): shaft diameter Select variant…

Compare all products in Pololu Aluminum Scooter Wheel Adapters.
- 17 November 2015

We are rolling out another set of new products here at Pololu: Scooter/Skate Wheels. They are available in 144×29 mm, 100×24 mm, 84×24 mm, and...

- 11 July 2014

6 mm scooter wheel adapter pieces assembled with the included hardware. 6 mm scooter wheel adapter with included hardware. You have...