Magnetic Encoder Pair Kit for Micro Metal Gearmotors, 12 CPR, 2.7-18V (old version)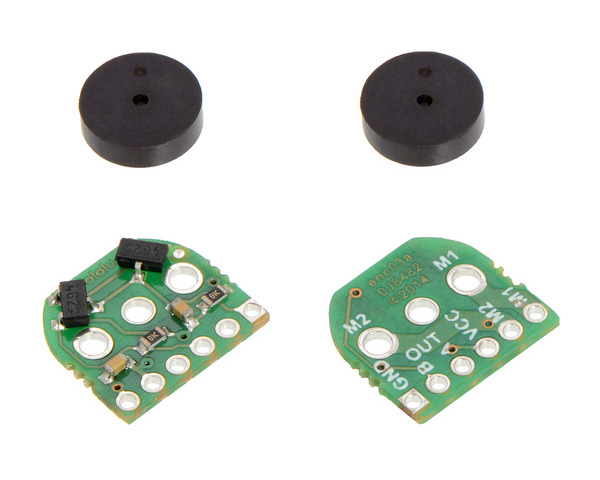 Add quadrature encoders to your LP, MP, or HP micro metal gearmotors (extended back shaft version required) with this kit that uses a magnetic disc and hall effect sensors to provide 12 counts per revolution of the motor shaft. The sensors operate from 2.7 V to 18 V and provide digital outputs that can be connected directly to a microcontroller or other digital circuit.

Note: This version is not compatible with the HPCB micro metal gearmotors; it is only compatible with LP, MP, and HP dual-shaft micro metal gearmotors.
Dimensions
| | |
| --- | --- |
| Size: | 10.6 mm × 11.6 mm1 |
| Weight: | 1.0 g2 |
General specifications
| | |
| --- | --- |
| Minimum operating voltage: | 2.7 V |
| Maximum operating voltage: | 18 V |
Identifying markings
| | |
| --- | --- |
| PCB dev codes: | enc03a |
| Other PCB markings: | 0J8482 |
Notes: