Power HD Ultra-High-Torque, High-Voltage Digital Giant Servo HD-1235MG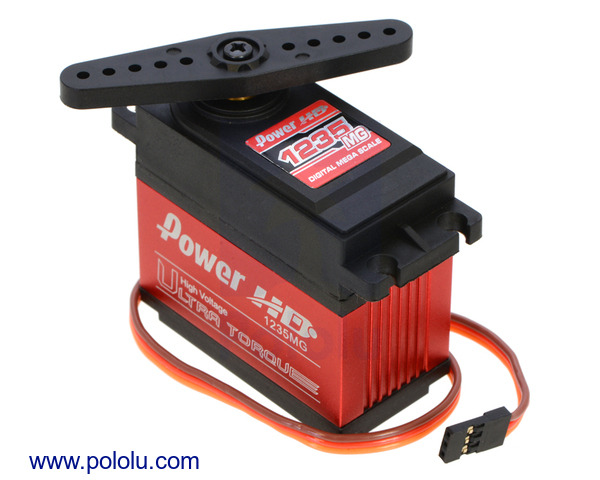 The Power HD 1235MG servo is all about torque. This 1/4-scale servo can deliver an incredible 560 oz-in of torque at 7.4 V or 490 oz-in at 6 V, and it features an all-metal gear train, digital control electronics, and two ball bearings on the output shaft. Unlike typical hobby servos, the 1235MG has an operating voltage range of 6 V to 7.4 V. Servo horns and associated hardware are included.

Key specs at 7.4 V: 0.18 sec/60°, 560 oz-in (40 kg-cm), 170 g.
- 29 March 2017

We added the FEETECH Ultra-High-Torque, High-Voltage Digital Giant Servo FT5335M to our expanding RC servo selection. This giant-scale digital servo...

- 19 May 2014

We are now carrying metal servo horns that work with Power HD's ultra-high-torque HD-1235MG giant servos, which can deliver a whopping 560 oz-in...

- 2 December 2013

As you might have noticed from some of our recent blog announcements, we are steadily working on expanding our selection of hobby servos, and the...