MPL3115A2 Altitude/Pressure Sensor Breakout Board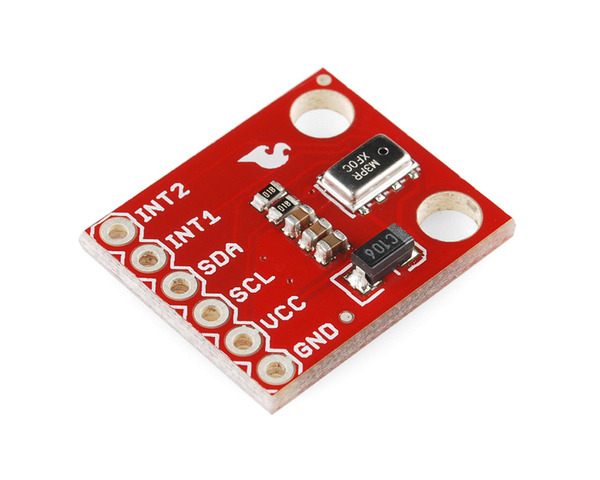 This is a simple breakout board from SparkFun for the MPL3115A2 precision altimeter. The MPL3115A2 offers a measuring range of 50 to 110 kPa with an absolute accuracy of down to 0.4 kPa. It has an altitude resolution down to 30 cm. This board should be powered with 1.95 and 3.6 V, and is designed to be connected to a microcontroller via I²C.
Note: This product has been replaced by the LPS331AP Pressure/Altitude Sensor Carrier with Voltage Regulator.
Overview
Life has its ups and downs, so why not measure them? The MPL3115A2 is a MEMS pressure sensor that provides altitude data to within 30 cm (with oversampling enabled). The sensor outputs are digitized by a high-resolution 24-bit ADC and transmitted over I²C. Pressure output can be resolved with output in fractions of a Pascal, and altitude can be resolved in fractions of a meter. The device also provides 12-bit temperature measurements in degrees Celsius. Since this board is a carrier for the MPL3115A2, we recommend careful reading of the MPL3115A2 datasheet (367k pdf). The board ships populated with all of its SMD components, including the MPL3115A2. The breakout board's pins are spaced 0.1" apart making it easy to use with standard breadboards and 0.1" perfboards.
Features
1.95–3.6 V supply voltage, internally regulated by LDO
1.6–3.6 V digital interface supply voltage
Fully compensated internally
Direct reading, compensated
20-bit pressure measurement (Pascals)
20-bit altitude measurement (meters)
12-bit temperature measurement (degrees Celsius)
Programmable events
Autonomous data acquisition
Resolution down to 1 ft. / 30 cm
32-sample FIFO
Ability to log data up to 12 days using the FIFO
1 second to 9 hour data acquisition rate
I²C digital output interface (operates up to 400 kHz)
Note: This is a 3.3V device. External components (such as level shifters) are required when interfacing with 5V systems.
Note: SparkFun calls this product the "MPL3115A2 Altitude/Pressure Sensor Breakout" SKU: SEN-11084.