RN-41 Bluetooth Module Carrier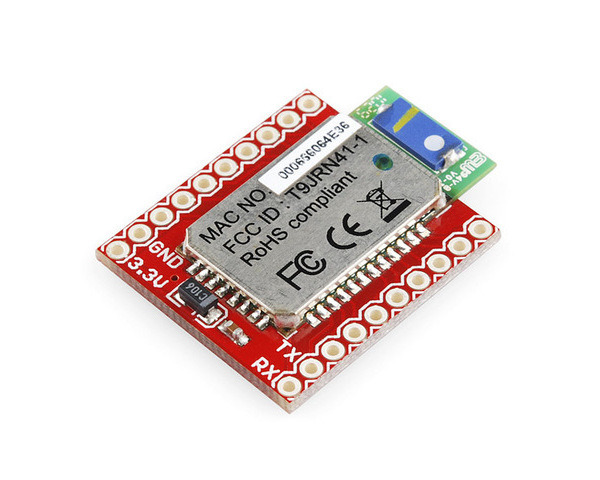 This DIP breakout board from SparkFun for the Roving Networks RN-41 Bluetooth module lets you add a Bluetooth interface to a device that has a 3.3 V serial port. Two 0.1″ headers spaced 0.8″ apart makes it easy to use with standard solderless breadboards and 0.1″ perfboards. All pertinent pins are broken out and labeled. The RN-41 Bluetooth module on this carrier has firmware version 6.15.
Overview
The RN-41 Bluetooth module is designed to replace serial cables; the Bluetooth stack is completely encapsulated. Using the TX and RX pins, the end user just deals with serial bytes: press the "A" character from a terminal program on your computer and an "A" will be pushed out the TX pin of the Bluetooth module. For computers that do not already have Bluetooth radios, you can use a USB-to-serial adapter to connect the Bluetooth module to a computer.
Warning: The RN-41 is a 3.3 V device. Attaching it directly to a computer's RS-232-voltage-level serial port will break it. External components (such as voltage dividers) are required when interfacing with 5 V systems.
Features
Fully-qualified Bluetooth module
FCC certified
Fully-configurable UART
UART data rates up to 3 Mbps
Over-air data rate of 721 kbps to 2.0 Mbps
Low power sleep mode
Compatible with Bluetooth products that support SPP
Includes support for BCSP, DUN, LAN, GAP SDP, RFCOMM, and L2CAP protocols
3.3 V operation
Status pin
Bluetooth technology v2.0 compatible
Class 1 power output
Firmware version 6.15
Note: SparkFun calls this product the "Bluetooth Module Breakout – Roving Networks (RN-41)", SKU: WRL-12579. This product replaces the module with firmware version 4.77, which has SparkFun SKU WRL-10144.