Solarbotics K SV Sumovore Mini Sumo Kit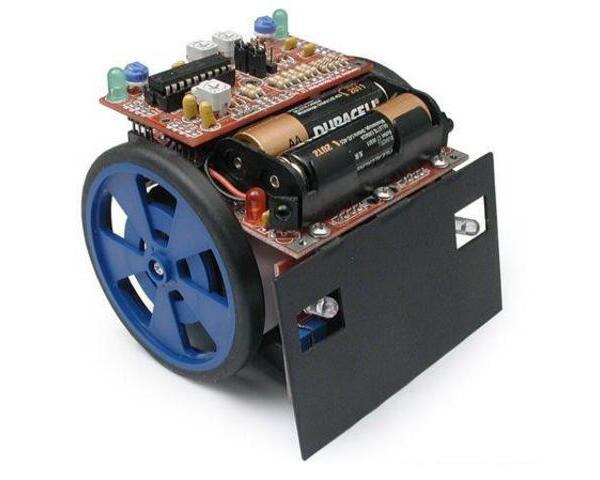 If you have been thinking about getting your own mini sumo robot but were waiting for the right kit to come along, we might just have the one for you! No programming is necessary to get the Sumovore going: it has a sumo wrestling mode and a line following mode, and assembly is easy with the step-by-step instructions written just for beginners. This robot outperforms many other robots, even in its standard configuration, and there are options to expand on its basic capabilities.

Compare all products in Robot Kits with Soldering or

Educational Kits.
The Solarbotics Sumovore is a great entry-level kit that can serve as an exciting introduction to the world of mini robot sumo and robotics. The Sumovore is mainly designed for mini sumo competitions, but it also includes a bonus line following mode so you can enter it in line-following contests, too. No programming is necessary because the Sumovore doesn't use a microcontroller. Instead, it uses a discrete "brainboard" made up of analog circuits to control it's motions. However, if you want the ability to program your bot, upgrading to a microcontroller brain is possible (see Expansion Capabilities).
Assembling the brainboard and the rest of the robot is explained in the instructions (2MB pdf), which include many detailed pictures to step beginners through every component in the robot. Assembly takes a few hours, and basic electronics tools, such as a soldering iron, wire strippers, diagonal cutters, long-nose pliers, and small screwdrivers are required (see page 4 of the instructions (2MB pdf) for a full list of the required tools). Don't worry if you don't have any soldering experience: the instructions begin with a soldering tutorial explaining what you need to know to get your robot up and fighting. (If you insist on practicing your soldering on something else, first, you might consider the learn to solder kit.)
The Sumovore sumo robot features two obstacle-detecting sensors on its front (for detecting your opponent) and four reflectance sensors on its bottom (for sensing the edges of the ring, and for line following). The GM8 gearmotors give the robot more speed than competing products that use modified-RC-servos, and the robot has outperformed other stock mini-sumo robots including programmable robots.
Note: The Solarbotics Sumovore robot is a kit that requires soldering; before using it, you will need to assemble the robot. Six AA batteries are required but not included. Wheel and front scoop colors may vary from the picture shown.
Features
Powerful GM8 gearmotors powered by a robust L293D motor driver.
Four opto-reflector edge sensors (fifth edge sensor position available when using microprocessor brainboard).
Two 38kHz IR emitters and detectors for opponent detection.
6 AA power supply (batteries not included).
Steel frame for easy assembly.
Discrete brainboard, no programming required (optional modular brain boards for programming the robot are available).
Discrete brainboard features:

"Anti sumo-dance" behavior (stops two sumos from spinning around each other).
"Anti edge-ram" behavior (stops dual edge triggers resulting in repeated edge-charging).
Selectable sumo/line-follower modes.

Multiple trimpots for simple behavior tuning.
Modular front edge sensor / IR transmitter daughterboard.
345 grams (0.76 lbs.) with batteries in (6 x AA batteries not included).
32-page beginner-friendly detailed instructions (2MB pdf) (includes full electronic schematics, both logical and symbolic, for custom modification).
Expansion Capabilities
There is an optional rear obstacle sensor so your Sumovore can protect itself from an attack from behind.
The Sumovore's included discrete brainboard is detachable, so if you're ready for an upgrade you can replace the analog brain with your own microcontroller system or one of several optional microcontroller carrier boards (see page 30 of the instructions (2MB pdf)).
Once the Sumovore is equipped with a programmable brain, a fifth reflectance sensor can be added, which is useful for developing a superior line following robot.
People often buy this product together with: