RC Snap Circuits Rover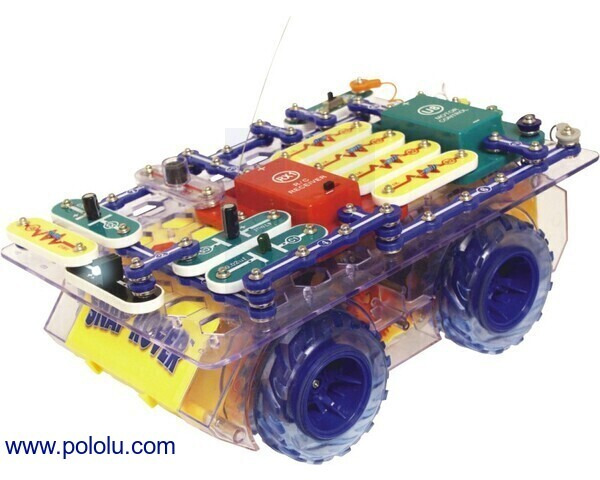 The RC Snap Circuits Rover is a mobile, radio-controlled Snap Circuits platform. Build the 23 included projects and create many of your own circuits with the ample circuit-building space on top of this four-wheeled chassis. The included manual has projects that explore the fundamentals of circuit design and radio control.
The Elenco RC Snap Circuits Rover is a radio-controlled Snap Circuits set on wheels! The four-wheeled chassis sports two 128:1 gear trains, an LED headlight, a horn, and a radio-controlled (RC) transmitter. The left and right motors can be controlled independently, and the clear chassis lets you see the gears in action.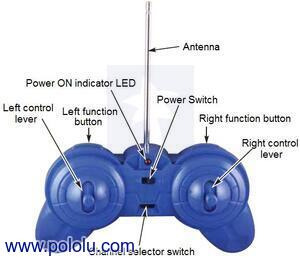 Snap Circuits Rover transmitter.
The Snap Circuits Rover RC system lets up to three rovers run in the same area without interfering with one another. The included RC transmitter has two levers and two buttons that can control the motors and even other parts of the circuit.
The RC Snap Circuits Rover comes with a printed full-color manual (3MB pdf) and color-coded, snap-together parts that make circuit building easy. The manual has 23 circuit projects that all feature a color diagram of the circuit, an educational objective, step-by-step assembly instructions, and a description of what the assembled circuit should do. No tools are required for circuit assembly. The rover needs six AA batteries and the transmitter needs one 9-volt battery to operate; batteries are required but not included. The product box suggests that the Snap Circuits Rover is appropriate for people ages 8 – 108.
Here are just a few of the projects in the Snap Circuit Rover manual:
radio-controlled flashlight
morse code
electric generator
lighthouse
The Snap Circuits Rover comes with over 30 parts including:
a horn
an LED headlight
a radio-control receiver
a radio-control transmitter
a two-channel motor controller
| | |
| --- | --- |
| Snap Circuits Rover parts list. | Snap Circuits Rover with a radio-control transmitter. |
The rover uses a higher-voltage power supply than the other Snap Circuits kits. Some parts from the other Snap Circuits kits are designed for lower voltages and can be damaged if a higher voltage is applied to them.