Elenco 200-In-One Electronic Project Lab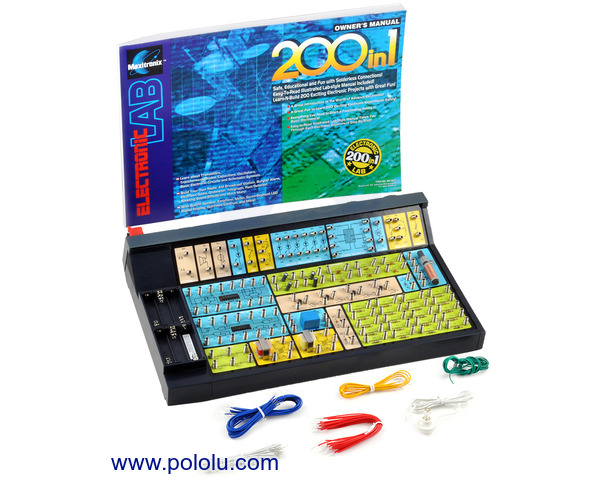 Learn electronics with the Elenco 200-In-One Electronic Project Lab! This kit includes everything you need to get started building your own electronic circuits. Components such as resistors, capacitors, LEDs, ICs and more are securely attached to the electronic lab so you can spend less time searching for components and more time learning how to build that next circuit! This kit requires six AA batteries (not included).
Elenco electronic project labs are an excellent introduction to electronics. While they are comprehensive enough to be a great learning tool for high school/college students and adults interested in electronics, their ease of use makes them appropriate for children as young as 10. Each project lab comes with an owner's manual that begins by explaining the included components and the fundamentals of reading schematics and building circuits before moving on to explaining various circuits and how to build them. No soldering or tools are required for using any of the project labs, and their compact design makes it easy to setup your new electronics workbench anywhere.
Note: If you are looking to introduce electronics to a younger child, we recommend the Snap Circuits series of electronic kits.
Here are just a few examples of the type of the projects included in the Electronic Project Labs:
Sound Alarm
Motion Detector
Electronic Coin Toss
Pulse Width Modulation
Electronic Organ
Photo-level Alarm
We carry the following Electronic Project Labs:
200-In-One electronic project lab (MX-907) – The components included with this kit—resistors, capacitors, transistors, op amps, LEDs, a speaker, and more—are permanently embedded within a 14"×9" case and accessible via spring terminals, so there are no loose components to lose, and no soldering is required to create your circuits. The spring terminals allow for fast, easy, temporary connections with the included pre-cut wires. In addition to the basic components found in the 75-in-one project lab, this kit offers some more advanced components, such as tuning and control knobs, a meter, and a seven-segment display. The kit includes an instruction booklet that will guide you through 200 fun and educational projects (96k pdf). This kit requires six AA batteries (not included).
500-In-One electronic project lab (MX-909) – The largest of the project labs, this kit is contained in a sturdy folding case (about 16"×13"×3.25"). The case features LEDs, switches, photo transistors, a transformer, a speaker, a seven segment LED, an antenna, control and tuning knobs, terminals for connecting external circuits, and even a micro computer with LCD and programming keyboard! Like the other project labs, this kit uses spring terminals for some connections, but it also includes a breadboard for attaching external components such resistors, capacitors, diodes, transistors, and ICs (which are all included with this kit and can be housed in the case's built-in storage compartments). This project lab comes with three separate manuals: the first and second manuals introduce what is included in the kit and contain 400 circuits for beginner to advanced users, and the third manual takes your electronics education to the next level by introducing programming to control the final 100 circuits. This abbreviated version of the 500-in-One project lab manual (694k pdf) contains a list of all of the projects and the instructions for a few of the labs. This kit includes the six required AA batteries.