Shaftless Vibration Motor 8x3.4mm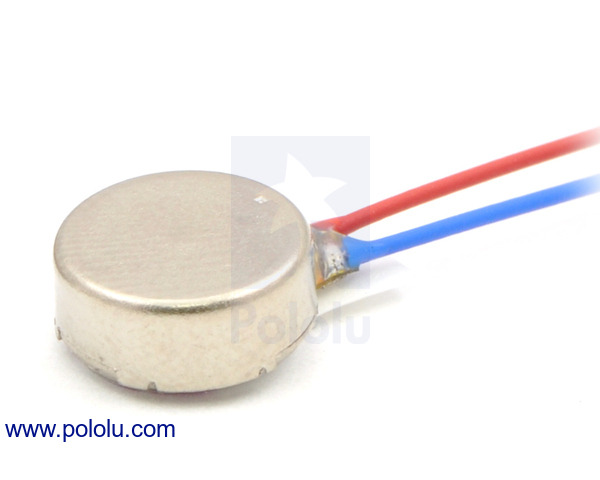 This tiny, button-type, vibrating motor shakes with a vibration amplitude of 0.75g and draws approximately 60 mA when 3 V is applied to its leads. The shaftless design keeps this motor small: 8 mm in diameter and 3.4 mm in height.

Compare all products in Motors and Gearboxes.
Overview
This shaftless vibration motor is fully-enclosed with no exposed moving parts. Its small size (8 mm diameter, 3.4 mm height) and shaftless design mean you can mount it on a PCB or even place it in a pocket to add quiet, haptic feedback to your project. The motor has a 3M adhesive backing on it for easy mounting and 1.5" leads for making quick connections. Polarity is not important; the motor can run CW or CCW.
We offer this vibration motor in three different sizes:
All three of these motors have the same vibrational amplitude (0.75g), but the 10×3.4mm version has more mass than the other two, which results in a slightly greater vibrational force.
Specifications
| | |
| --- | --- |
| Size | 8 mm diameter, 3.4 mm height |
| Weight | 0.8 g |
| Recommended operating voltage | 2.5 – 3.5 V |
| Vibration amplitude at 3 V | 0.75g |
| Speed at 3 V | 14500 RPM (12000 RPM min) |
| Free-run current at 3 V | 60 mA (80 mA max) |
| Startup current at 3 V | 120 mA max |
| Motor resistance | 29 ± 6 Ω |
| Operating temperature | -10°C to +60°C |
| Storage temperature | -30°C to +70°C |
Dimensions (in mm)
People often buy this product together with: