Variable-Temperature Soldering Station 70 W Digital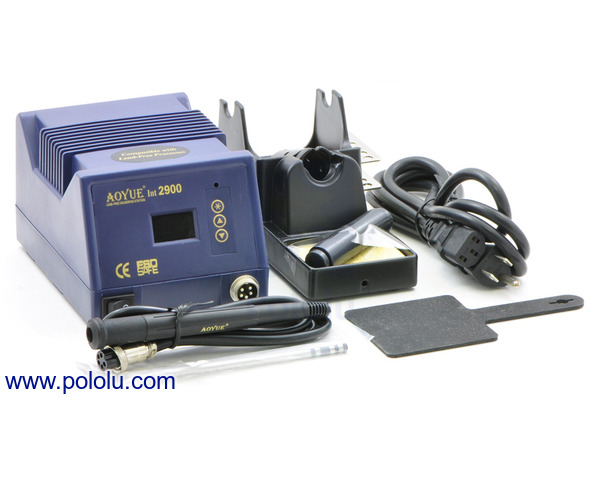 This variable-temperature soldering station features a digital temperature control and display adjustable from 200-480°C (392-896°F). The station's 70W capacity enables the soldering iron to work with both leaded and lead-free solder. The station is ESD-safe and has an optional 30-minute auto sleep mode when the station is idle.
Description

Specs

(0)

Pictures

(2)

Resources

(0)

FAQs

(0)

On the blog

(0)
Overview
This temperature-controlled, anti-static soldering station with digital readout works with both leaded and lead-free solder. It heats up in about twenty seconds and has a temperature selection resolution of 1-2°C.
Features:
Soldering station that has excellent thermal recovery allowing lead-free soldering without large increase in tip temperature
Integrated ceramic heater, sensor, control circuit, and tip
Easily replaceable soldering iron tip cartridges
Dependable transformer provides 24 V output for the soldering iron
Variable temperature setting range from 200-480°C (392-896°F) shown on digital temperature display
Optional 30-minute auto sleep mode when station is idle
70W heat capacity enables heavy soldering (including lead-free soldering) without large increases in tip temperature
Station includes:

Aoyue LF-2B soldering iron tip diagram.
One soldering station
One soldering iron
One power cord
One soldering iron holder with sponge and plastic solder spool dowel
One LF-2B soldering iron tip with heating element
One heat resistant pad
Specifications
Power input: 220 V or 110 V
Power consumption: 70 W
Soldering iron output voltage: 24 V
Soldering iron temperature range: 200-480°C (392-896°F)
Tip to ground resistance: less than 2 Ω
Tip to ground potential: less than 2 mV
Dimensions: 110 x 90 x 155 mm
Weight: 6.6 lbs (3 kg)