Parallax BASIC Stamp 2 Module #BS2-IC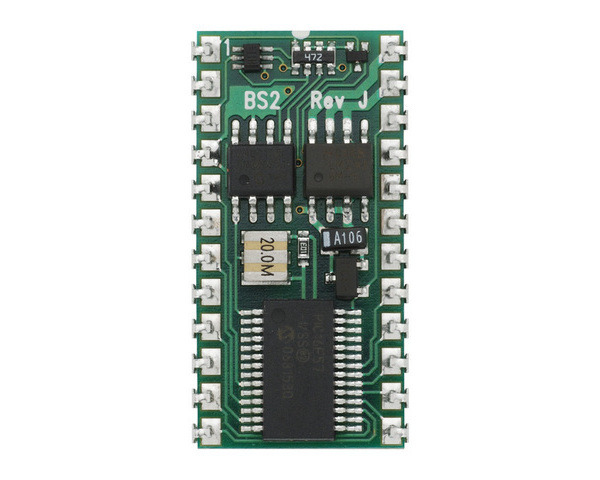 It's amazing what you can accomplish with this well-proven microcontroller and its simple programming language, PBASIC. Widely used in educational, hobby, and industrial applications, all vital components (processor, clock source, memory, power regulator) are provided on the BS2's tiny PCB; just connect power and go!

Compare all products in BASIC Stamp.
Dimensions
| | |
| --- | --- |
| Size: | 1.2" x 0.6" x 0.4" |
| Weight: | 2.4 g |
General specifications
| | |
| --- | --- |
| Processor: | Microchip PIC16C57C @ 20 MHz |
| RAM size: | 32 bytes1 |
| Program memory size: | 2 Kbytes2 |
| Motor driver: | none |
| Motor channels: | 0 |
| User I/O lines: | 183 |
| Max current on a single I/O: | 20 mA4 |
| Minimum operating voltage: | 5 V |
| Maximum operating voltage: | 15 V |
| Package: | 24-pin DIP |
| Reverse voltage protection?: | Y |
| External programmer required?: | N5 |
| Program execution speed: | ~4,000 instructions/second |
| Supply current: | 3 mA6 |
| LCD included?: | N |
Notes: