Brushed DC Motor: 130-Size, 3V, 20kRPM, 4A Stall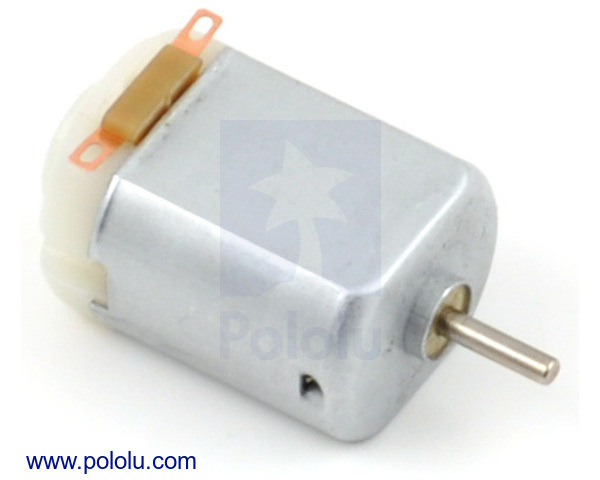 This high-power, 130-size brushed DC motor can be used as a direct replacement for lower-power 130-size motors to get more torque and speed out of your gearmotor, but it will also draw more current and typically wear out faster. It has a recommended operating voltage of 1.5 V to 3 V, but it can operate at higher voltages to provide more power in exchange for longevity of the motor. It is compatible with the larger Pololu plastic gearmotors.
Approximate specifications at 3 V: free-run speed of 20,000 RPM, free-run current of 350 mA, stall current of 4 A, stall torque of 55 gf-cm (0.75 oz-in).

Compare all products in Pololu Plastic Gearmotors or

Motors and Gearboxes.
Dimensions
| | |
| --- | --- |
| Size: | 25 × 15 × 20 mm |
| Weight: | 16 g |
| Shaft diameter: | 2 mm |
General specifications
| | |
| --- | --- |
| No-load speed @ 6V: | 40000 rpm1 |
| No-load current @ 6V: | 500 mA1 |
| Stall current @ 6V: | 8 A1 |
| Stall torque @ 6V: | 1.5 oz·in1 |
| No-load speed @ 3V: | 20000 rpm |
| No-load current @ 3V: | 350 mA |
| Stall current @ 3V: | 4 A |
| Stall torque @ 3V: | 0.75 oz·in |
Notes: