Wall Power Adapter: 9VDC, 1A, 5.5×2.1mm Barrel Jack, Center-Positive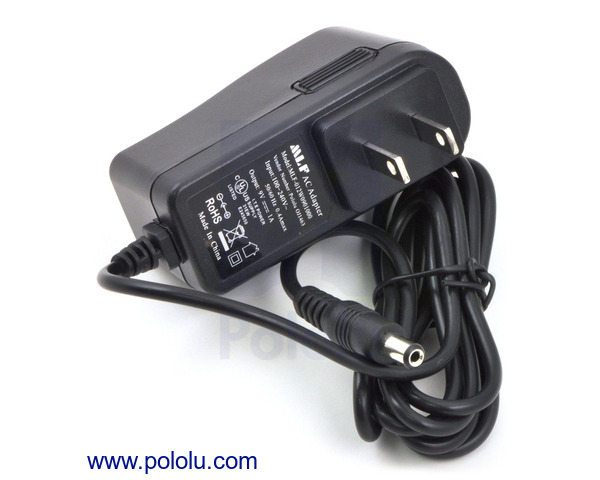 This UL-listed 9 W, "wall wart"-style switching power adapter supplies up to 1 A at a regulated 9 VDC. The AC adapter works with input voltages of 100 – 240 VAC and has a 1.5 m (5 ft) DC power cord that is terminated by a center-positive, 5.5 × 2.1 mm barrel connector.
Alternatives available with variations in these parameter(s): voltage maximum output current Select variant…
Discontinuation notice: This product has been replaced by a lighter, smaller version.
This UL-certified (file number QQGQ.E245650) AC-to-DC converter gives you an easy way to power your DC electronics project from a US-style AC electrical socket. It uses a switching regulator to efficiently output up to 1 A at a near-constant regulated 9 VDC, even when no load is applied. The DC power cable is 5 ft (1.5 m) long and terminated with a center-positive, 5.5 × 2.1 mm barrel connector that works with the DC power adapter barrel jack. This particular adapter also works well with many Arduinos and the BASIC Stamp discovery kit.
We have wall power adapters available in a range of voltages and maximum output currents:
Alternatives available with variations in these parameter(s): voltage maximum output current Select variant…
People often buy this product together with: