1.b. Included hardware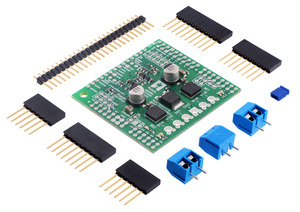 Dual TB9051FTG Motor Driver Shield for Arduino with included hardware.
This motor driver board ships with all of the surface-mount parts populated. However, soldering is required for assembly of the included through-hole parts. The following through-hole parts are included:
one extended/stackable 1×10 female header (for Arduino shields)
two extended/stackable 1×8 female headers (for Arduino shields)
two extended/stackable 1×6 female headers (for Arduino shields)
three 2-pin, 5 mm terminal blocks (for board power and motor outputs)
A 0.1″ shorting block (for optionally supplying shield power to Arduino) is also included.
The terminal blocks can be soldered into the larger holes to allow for convenient temporary connections of unterminated power and motor wires (see our short video on terminal block installation), or you can break off a 1×12 section of the 0.1″ header strip and solder it into the smaller through-holes that border these larger holes. Note, however, that each header pin is only rated for 3 A (there is a pair of pins for each connection), so for higher-power applications, the terminal blocks should be used or thick wires should be soldered directly to the board.
When not using this board as an Arduino shield, you can solder the pieces of the 0.1″ header to the logic connections along the left side of the board to enable use with custom cables or solderless breadboards, or you can solder wires directly to the board for more compact installations. Note that motor and motor power connections should not be made through a breadboard.
The mounting hole is intended for use with #4 screws (not included).
An Arduino is not included.