6.g. Laser Cutting Example: Acrylic Cat Logo
This custom laser-cut logo for Anna started as a pencil sketch on a cocktail napkin. To laser-cut any design, we need a vector-format drawing file. We can draw the part on the computer for you, or you can draw it yourself using a vector drawing or CAD program (CorelDRAW, Adobe Illustrator, TurboCAD, etc.).
The smaller cat is around 2.3" x 3" and was cut from 1/8" transparent gray acrylic; the larger cat was created from the same file but enlarged to 9" x 11.5", and it was cut from 1/4" black acrylic. Vector-format drawings can be resized to the size you need (unlike bitmaps, you do not get "jagged edges" when you resize vector drawings), and we can cut parts up to 49.5" x 35", so this kitty could be made as large as 35" x 45"!
Laser cutting is a great way to make unique, personal gifts, or even works of art. If you have a creative design but it is only on paper, we can help you take your idea from sketch to fabrication.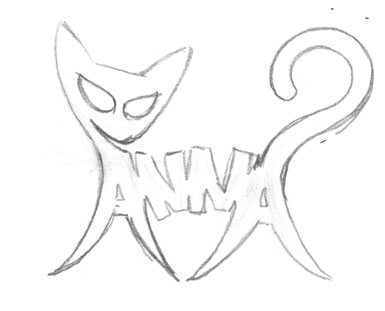 Scanned sketch used to create the logo.
Pricing
| | |
| --- | --- |
| ONE piece out of 1/4" black acrylic: | $31.00 |
| One-time laser cutting file creation fee (since customer could only provide a sketch): | $38.00 |