6.b. Laser Cutting Example: Architectural Ornament Created from a Photograph
Our custom laser-cutting service is not just for robot enthusiasts; it can be for anybody with a creative project requiring custom parts! This custom ornament was laser cut from red oak and was designed to be used as an applique for a door. The customer provided us a photograph of a similar pattern, which we referenced to draw this design on the computer to create a file suitable for laser cutting. The decoration was cut from 1/4" red oak and is 5.5" in diameter. Once we have laser cutting file, we can easily re-use the same file to cut a smaller or larger version of the part — we could cut the same design to be as wide as 35".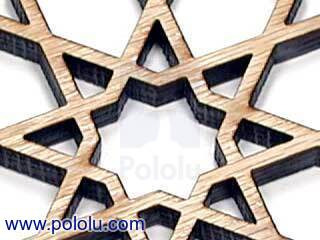 Close-up of the ornament.
The intricate design, geometric nature, and small size of the piece would make it difficult to cut by hand but is no problem for the laser cutter. In fact, the laser cutter can cut any scroll saw pattern and produces beautiful fretwork from various woods and plastics. As you can see in the pictures, the laser cutting process chars the cutting edges in wood, which can be attractive in many applications. To remove charring you can sand and polish the edges to restore the natural wood color.
The intricacy of this ornament and the relatively thick material (1/4") makes for a higher cutting cost per piece, but if you were to order multiple units, you could take advantage of discounted cutting rates for longer jobs.
If you want to design a similar decoration, you can use our laser cutting service to create your own custom appliques to adorn your study, mantle, front door, or even your entire home to create a unique, attractive living environment.
Pricing
| | |
| --- | --- |
| - One-time laser cutting file creation fee (since customer could only provide a photograph): | $35.00 |
| - ONE of this custom architectural ornament shipped to you for: | $30.95 |
| - TWO of this ornament shipped to you for: | $39.95 |