November 2020 update after 8 months of operations under coronavirus
Posted by
Jan
on 16 November 2020
This week marks eight months since business shutdowns began in Nevada in response to the coronavirus pandemic. Here is an update about how we have been surviving at Pololu since my last detailed post in April, when we got our PPP loan.
We managed to reach a record sales quarter for Q1 despite the last few weeks being under the Nevada emergency measures and February onward being disrupted by the shutdowns affecting our China operations. Sales really dropped in April and even more in May, leading to Q2 sales ending up the worst since 2013. The money we received in April from the PPP loan allowed us to keep paying those employees who were still working and to cover health insurance and other benefits for the rest. We submitted our PPP loan forgiveness application in early July on the day our bank released their application and kept in constant contact with our bank rep while we maintained core operations with a minimal staff.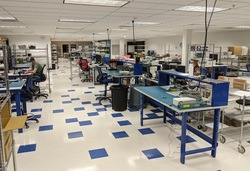 The initial loan application had been approved very quickly, so we were hoping to get a resolution on the forgiveness similarly quickly to let us know where we stood regarding how much we would be in debt. We made some tough staffing decisions in July and August, and that turned out to be a very good move because the loan forgiveness process ended up taking a lot longer. We started the year with around 80 employees, and by the end of August, we had reduced that to around 55, of which about ten work only remotely. Everyone else has now formally quit or been laid off, with some hope that most of them could eventually return once the pandemic is under control.
Q3 brought several special high-volume sales, including components going into coronavirus testing equipment around the world, which helped Q3 sales inch past our Q1 sales for a new all-time record sales quarter. Perhaps some of that was also impacted by orders delayed from Q2 and from schools buying more kits for the resumption of classes in the fall. It sure felt like things were going in a good direction, which I guess is how a lot of the world felt.
The news did not stay good for long as sales dropped a lot again in October, falling below our April low (but not getting as bad as May) as the new wave of COVID cases swept Europe and brought in renewed shutdowns in many countries there. November has so far also been weak as the coronavirus continues to surge across the globe.
We got one bit of good news for Pololu last week when our PPP loan forgiveness went through! We did not get our whole loan forgiven, but it was over 90% of the loan amount, which is a substantial amount of money that covers a lot of our losses from Q2 and lets us approach the end of the year with a bit of cash reserves instead of being in a hole. It's a huge relief knowing we should be able to ride out the holiday season without having to do further layoffs.
We are of course working hard to do more than just to get by for another few months. Some of the staff we brought back in the summer are working on new and exciting products, including resumption of projects we had been working on long before the coronavirus hit. We have not even done proper announcements of some of the items that are already released, including our 3-channel wide field of view (FOV) distance sensor module.
That was a very challenging project that I still intend to write about in a separate blog post. Right now, I have one more product to tease that we are pushing to release in time for the holidays!
Speaking of the holidays, normally we would be gearing up for our biggest sale of the year, our Black Friday/Cyber Monday sale that has run from the Wednesday before Thanksgiving through the following Monday. This also made that period very busy for our shipping and manufacturing departments. Since we are working with a reduced staff this year and many people are already stretched thin covering multiple roles, we will be scaling back the intensity of the sale and running it longer in the hopes of distributing the load on those departments. Last year, we introduced a design-your-own-doorbuster promotion, and that was pretty fun to run, so we'll try to do that again (though we'll probably be less open to selling things at a loss just to be in the holiday spirit).
Only six more weeks of this crazy year to go! I am so grateful to everyone who has helped us get this far, from all the customers who kept ordering to the employees who stuck with me through the scariest times to everyone who has made a donation. Thank you very much and stay healthy and safe, everybody!
3 comments
Post a comment