New products: CP2102N serial adapter and another USB Type-C breakout. Should we do more with USB-C?
Posted by
Kevin
on 24 December 2020
Seven years ago, we released a CP2104 USB-to-Serial Adapter Carrier, our first product with a USB Micro-B connector (we had only used Mini-B up to that point). A few months later I wrote a blog post discussing our decision to switch connector types, and since then, we have exclusively used the Micro-B connector in all of our USB products.
Well, it's now 2020 and we recently released a CP2102N USB-to-Serial Adapter Carrier to replace the CP2104 board, along with a breakout for a different type of USB connector: our USB 2.0 Type-C Connector Breakout Board (usb07b). These products do not seem to have much in common at first glance (other than both being related to USB), but I think they create a good opportunity to talk about USB connectors again.
First, a bit about these new boards:
The CP2102N is Silicon Labs' replacement for several of their older USB-to-UART bridge ICs that are going out of production, including the CP2104. (It is not to be confused with the even older CP2102 without the "N", featured on our first USB-to-serial adapter and also being phased out.) Compared to the CP2104, the CP2102N has similar functionality but includes a few small improvements, such as a higher maximum baud rate and a re-programmable configuration ROM. Our CP2102N carrier can be used as a drop-in replacement for our CP2104 board in most applications. For more information, see the product page for the CP2102N USB-to-Serial Adapter Carrier.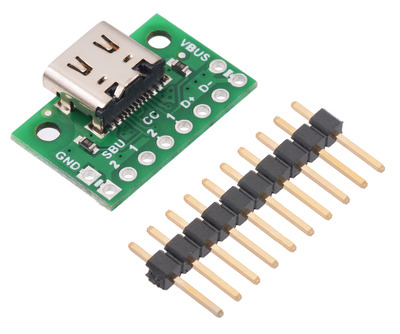 Our usb07b connector breakout board is very similar to the first Type-C breakout (usb07a) that we released last year. The two boards use different styles of connectors, and the newer one is priced a bit lower, but they both provide access to all of the USB-C connections required for USB 2.0 operation (power, USB 2.0 data, configuration, and sideband pins) and feature integrated CC pull-down resistors that make it easy to use the port as a power sink. For more information, see the product page for the USB 2.0 Type-C Connector Breakout Board (usb07b).
So now, the obvious question is: Why doesn't this new serial adapter have a USB Type-C connector?
When we designed and released the CP2104 board in 2013, the USB Type-C connector did not even exist yet. (Its development was probably well under way, but the specification was not finalized until August 2014.) Since then, USB-C connectors have started appearing in all kinds of devices and are becoming increasingly widespread. They offer the promise of a single type of connector that can be used everywhere, supporting faster data transfer, higher power, and alternate modes. On top of all that, the connector is reversible, so you don't have to worry about getting the orientation of the plug right.
With those advantages in mind, it's reasonable to wonder why we haven't started using the Type-C connector in more products. I touched on some of the challenges introduced by USB Type-C when I announced for our first USB-C breakout board, and that increased complexity accounts for part of the explanation here. A full-featured Type-C connector like the one on usb07a has 24 separate pins, way more than the five on a Micro-B connector, which means it's significantly harder both to design a printed circuit board for it and to ensure good quality and yields when manufacturing that board (especially since half of the contacts on the usb07a connector are small, tightly-packed through-hole pins). Because it is more mechanically complex, the Type-C receptacle usually also costs quite a bit more than a Micro-B connector.
The connector on our new usb07b board improves the situation a bit. It does not expose the eight USB 3 SuperSpeed signals (which we did not make available on our usb07a breakout anyway), and some of the power and ground pins are paired up more conveniently. So this connector effectively has just 12 pins, and they are all surface-mount, which helps lessen some of the design and manufacturing challenges I mentioned. The connector's simpler construction makes it slightly less expensive as well.

Bottom view comparison of the USB Type-C connectors used on our usb07a (left) and usb07b (right) breakout boards.
This means it's now a little bit more practical for us to consider a Type-C connector for more applications. However, there is still some question of what is to be gained by switching to it. While the enhanced power delivery capabilities of USB 3 and Type-C might open up some interesting possibilities for new kinds of devices, it's not clear that our existing products would benefit much from a change to USB-C, and there are some features like SuperSpeed communication that we are not likely to take advantage of anytime soon with the types of electronics we make.
So we want to ask you: what products, revised or new, would you like to see us make with USB Type-C? Would a device have to be uniquely enabled by Type-C in order to be compelling (maybe something like a USB bus-powered motor controller), or is just having a reversible connector alone worth it, and would you be willing to pay a couple extra dollars to get something with a Type-C connector instead of Micro-B? What else about USB-C appeals to you? Please let us know in the comments!
2 comments
Post a comment