Introducing the Tic T825 USB Multi-Interface Stepper Motor Controller
Posted by
David
on 20 July 2017
I am excited to announce our new product, the Tic T825 USB Multi-Interface Stepper Motor Controller. The Tic makes basic speed or position control of a stepper motor easy, with support for six high-level control interfaces:
USB for direct connection to a computer
TTL serial operating at 5 V for use with a microcontroller
I²C for use with a microcontroller
RC hobby servo pulses for use in an RC system
Analog voltage for use with a potentiometer or analog joystick
Quadrature encoder input for use with a rotary encoder dial, allowing full rotation without limits (not for position feedback)
You can select which of these interfaces you want to use and configure the other settings of the Tic over USB using our free software.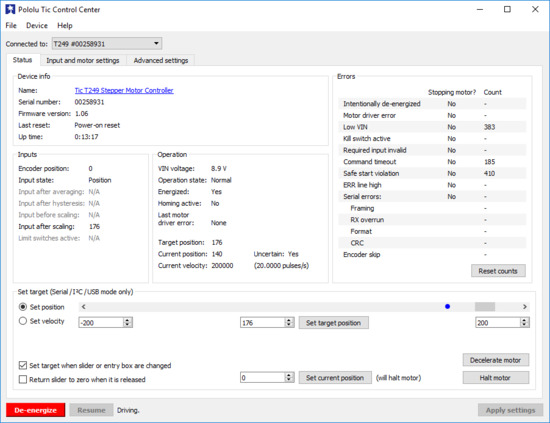 The Status tab of the Pololu Tic Control Center.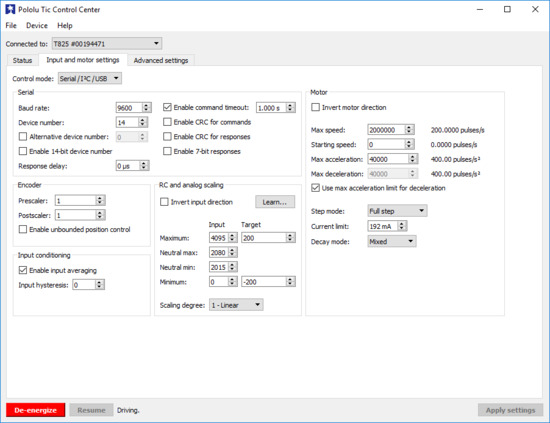 The Input and Motor Settings tab of the Pololu Tic Control Center.
The Tic T825 can operate from 8.5 V to 45 V and deliver up to approximately 1.5 A per phase continuously without a heat sink or forced air flow. With a digitally adjustable current limit that can be set over USB, serial, or I²C, you can save power while holding position or increase the motor's torque while it is moving. The Tic offers six different step resolutions, from full step through 1/32-step (32 microsteps per full step). We designed the Tic's firmware to be capable of taking up to 50,000 microsteps per second, which lets you use those finer microstepping modes while still keeping a high motor speed. The Tic also supports acceleration and deceleration limiting for smooth movements, and very slow speeds down to 1 step every 200 seconds (or 1 step every 1428 seconds with reduced resolution). The Tic T825 is based on the DRV8825 stepper motor driver IC from Texas Instruments (for which we also have a basic carrier board), and we plan to make other versions of the Tic that are based on different drivers with different performance characteristics.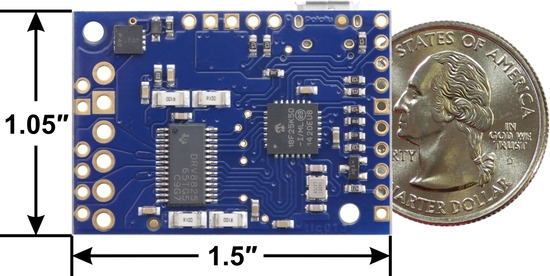 Tic T825 USB Multi-Interface Stepper Motor Controller, bottom view with dimensions.
The Tic T825 is available with connectors soldered in or without connectors soldered in.
For RC/hobby servos, we have a similar family of products called the Maestro servo controllers. For brushed DC motors, we offer the Simple Motor Controllers and the Jrk Motor Controllers.
2 comments
Post a comment