Aluminum standoff for Raspberry Pi
Posted by
Ryan
on 29 March 2017
We are now carrying the Aluminum Standoff for Raspberry Pi: 11mm Length, 4mm M2.5 Thread, M-F. The 11 mm body length is just right for mounting expansion PCBs or HATs with standard-size female headers on a Raspberry Pi. The male M2.5 threads extend another 4 mm past the standoff body, and the female M2.5 threads extend at least 6.35 mm into the body. We carry M2.5 nuts and 6 mm M2.5 screws separately.
Two of these standoffs are needed to mount a Raspberry Pi on a Balboa 32U4 robot: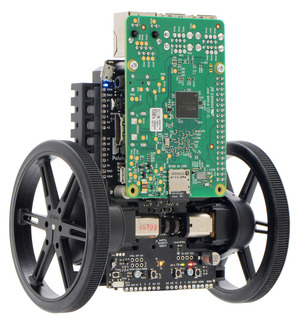 Balboa 32U4 Balancing Robot with 80×10mm wheels and a Raspberry Pi 3 Model B.
We also carry a 11 mm standoff with longer, 6mm threads. (We do not recommend these for the Balboa because the threads hit the robot chassis.)
0 comments
Post a comment