"Knock knock unlock" puzzle box
Posted by
Claire
on 1 December 2016
With the holiday season upon us, many are on the hunt for interesting projects that we can give as gifts. This year, why not make your project about unveiling your gift? You would still have to get an actual gift to put inside the box, but you'd win major style points. Forum member Bob Day's knock knock unlock puzzle box has no visible way of opening it, but given the right combination of knocks will unlatch itself with the help of a servo and several other electronic components inside. The puzzle box is controlled by an A-Star Micro, which is powered by our S7V8F5 voltage regulator and a mini LV pushbutton power switch. The power switch is turned on by a mercury tilt switch and turned off by the A-Star if no knocks are received for about 30 seconds. This power switch circuit allows power to be completely turned off, which should extend the battery life tremendously over just leaving the A-Star on. (For advanced microcontroller programmers, another option would be to put the A-Star into a low-power mode.) A list of the parts and connections used and some example code for the box are given on Bob's blog.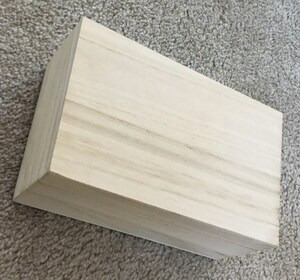 "Knock Knock Unlock" Puzzle Box outside view.
If you found this project interesting, you might also like a similar GPS puzzle box, also created by Bob, that we featured on our blog last year. That box unlocked when brought to a specific location and included a simpler toggle switch for power and an LCD screen.
0 comments
Post a comment