Maestro automated observatory
Our customer Robert sent us this spectacular image of NGC 1073 from his backyard observatory after we helped him get a SPDT Relay Carrier working with his Mini-Maestro 18-Channel servo controller. We thought it was pretty cool, so we asked him a bit more about how he captured it and how he is using the Maestro in his observatory.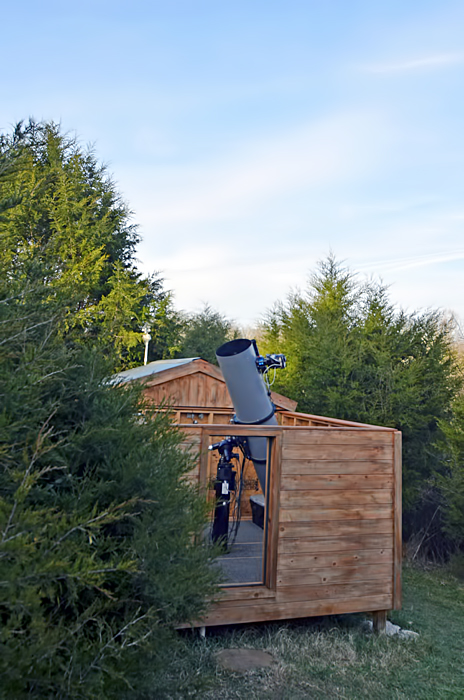 Robert's backyard observatory.
It turns out the observatory is built into a shed with a rolloff top. The image he sent us required 10 hours of total exposure time over 3 nights in 10 minute sub-exposures. Robert says he likes to stay up and watch the stars, but when he gets tired, it's really nice to be able to go to sleep and leave the observatory to collect photons on its own until the morning and then close itself up. He uses the Maestro with an Internet connected PC to coordinate operations like opening and closing the roof with removing the tube caps on the telescope and powering up other circuits remotely. You can find more images like this and a few more details about his observatory in the monthly updates of the "Natural Calendar" section of Robert's web site.
0 comments
Post a comment