Motion tracking skeleton at Cedar Gables Inn
Posted by
Amanda
on 20 October 2015
Forum user Ken constructed a spine-chilling Halloween project that is featured at the Cedar Gables Inn Bed and Breakfast in Napa, California. His project is based on Brandon's Motion Tracking Skull Halloween prop, but instead of just using a head-turning skull, Ken used a full-scale skeleton body to complete the creepy look.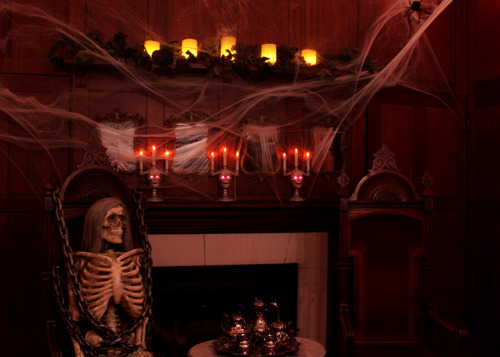 Motion tracking skeleton at the Cedar Gables Inn.
Just like in Brandon's example, Ken used two Sharp GP2Y0A60SZ analog distance sensors to detect objects (or humans) and a Micro Maestro servo controller to read the output values from the sensors and control the servo that moves the head. Ken improved on Brandon's code by returning the skeleton's head to its starting position after a short delay so the skeleton wouldn't stare rudely at the inn's guests.
For more information about Ken's Halloween project, see his forum post, and if you happen to be in the Napa Valley area this Halloween, stop by the Cedar Gables Inn and check it out in person!
In case you missed it, we have Maestros and Sharp distance sensors on sale right now as part of our Polo-BOO! Halloween Sale. The sale ends in less than two days, so if you want to try doing a project like this, now is the time to get started!

0 comments
Post a comment